In today's world, a one-size-fits-all approach is, simply put, insufficient. The unique challenges and expectations of today's large and hyperscale data centers demand specific services and solutions. STULZ is leading the way with groundbreaking technologies, matching the requirements of your mission-critical environments with our new, user-driven, purpose-built WallFlow Custom Indoor Air Handling Unit (AHU).
Your Data Center Needs
The individual needs of large data centers are as critical as they are unique, with the added challenge of progressing with technology, design, and operation management. When it comes to cooling systems, we know you expect:
Maximized space efficiency, without the need of a raised floor
Operation efficiency & reliability
Convenient systems control & connectivity
Ease of access for service & maintenance
Lower total cost of ownership
Our Custom Air Handling Solution
For over 40 years we have been one of the world's leading manufacturers of air cooling solutions. It is a combination of this experience and an unceasing spirit of innovation that sets us apart from competitors. With experienced sales and service partners in over 140 countries, the proximity to our clients allows for rapid response times, an active information exchange, and unique opportunities for collaboration. Working closely with our clients, we are able to develop the design concept, manufacture, and deliver optimal solutions for unique needs.
Where conventional systems have reached their limit, we are paving the way for new applications. Our new WallFlow Custom AHU redefines mission critical space constraints with its compact footprint, efficient power consumption, and maximum capacity. While we sell units from our Custom AUH line that are completely customizable, we have developed a standardized unit – the WallFlow Custom AHU – based on a highly successful custom design that has been deployed in multiple locations. The WallFlow can be purchased as-is, or offers various options and individual customizations. Designed with you in mind, this impressive unit can precisely and effectively manage the environment in your unique data center, giving you an operating advantage over standard cooling units.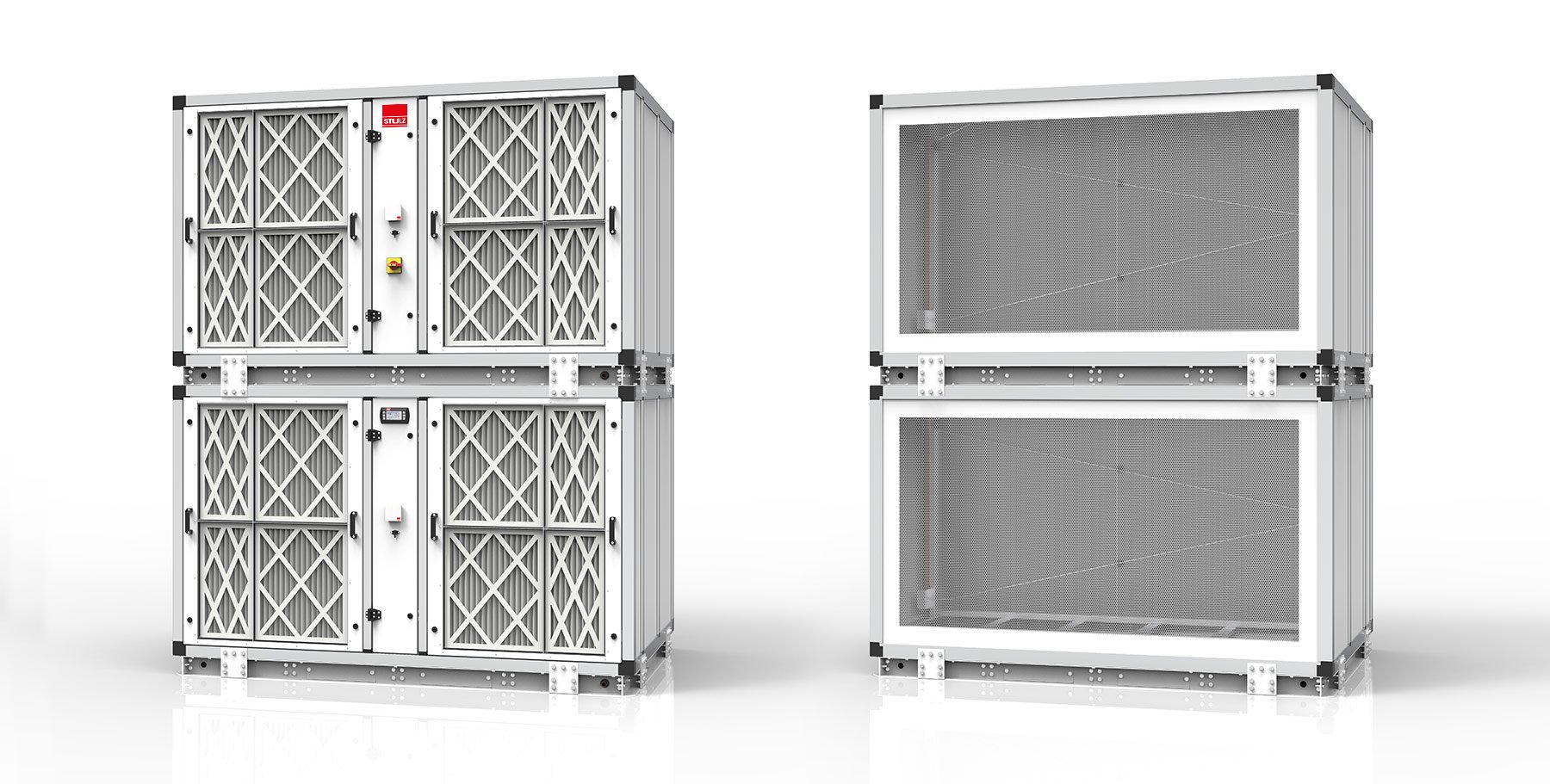 Maximized Space Efficiency
With multiple unit configurations, our connecting modules are scalable to your space. Various design options and cooling systems – direct expansion, chilled water, direct adiabatic, and free cooling – provide solutions for diverse site conditions. To save white space, the modular design concept with zero-side clearance results in a compact footprint with increased, uniform cooling capacity per wall length.
Operations Efficiency & Reliability
Thanks to the use of EF Fan technology and lowest AER (Airflow Efficiency Ratio) values, these units operate conduction at maximum efficiency without the need for a raised floor. This allows for taller server racks with denser IT load per unit. Additionally, the modularity increases the operational reliability through redundancy. With low pPUE values and the best price-performance ratio, our custom units supply air temperature within the recommended range, compliant with ASHRAE TC 9.9 guidelines.
Convenient Systems Control & Connectivity
STULZ E² - our innovative microprocessor controller – provides precision monitoring and control of your mission-critical environment. With different operating modes and multiple I/O capabilities for all major components, you can easily optimize control and increase energy savings in your space. The units are suitable for connection to all common BMS systems for your convenience and security. Controller UPS (uninterrupted power supply) is also available.
Ease of Access for Service & Maintenance
The WallFlow's standardized design enables shorter delivery times and quick installation. Factory trained, experienced sales and technician partners are available around the globe for high quality support. All parts requiring service can be accessed from the front, and fold-out fans and filters are easily accessible. We take the hassle out of maintenance, saving time and money.
While on the topic of savings, our units offer the lowest TCO (total cost of ownership). Thanks to ease of operation, scalable design concept with no raised floor requirement, efficient power consumption, and convenient maintenance, compared with classic CRAH units, STULZ Indoor AHUs is more cost effective to operate. We engineers like to make the accountants happy, too.
All great leaders also know how to listen. At STULZ, we listen to our customers and work side-by-side to create cutting-edge solutions that meet the needs of modern data centers. We are proud to work in collaboration creating precision cooling solutions that meet your needs and challenge our own innovation. Together, we can accomplish more.