Shifts Create Silver Linings
Humans adapt. We shift to survive. Employees work from home. Businesses are investing in SaaS platforms. Co-workers are relying on cloud-based technology to store and share information. Critical meetings that would have required an on-site visit are hosted virtually. Healthcare providers are switching to telehealth and digital record keeping. Students and teachers are trying new Learning Management System applications. Customers are demanding improved experiences from e-commerce. As we move forward with the repercussions of COVID-19, experts predict our adaptations will move with us, causing a greater usage of data and testing the capabilities of providers.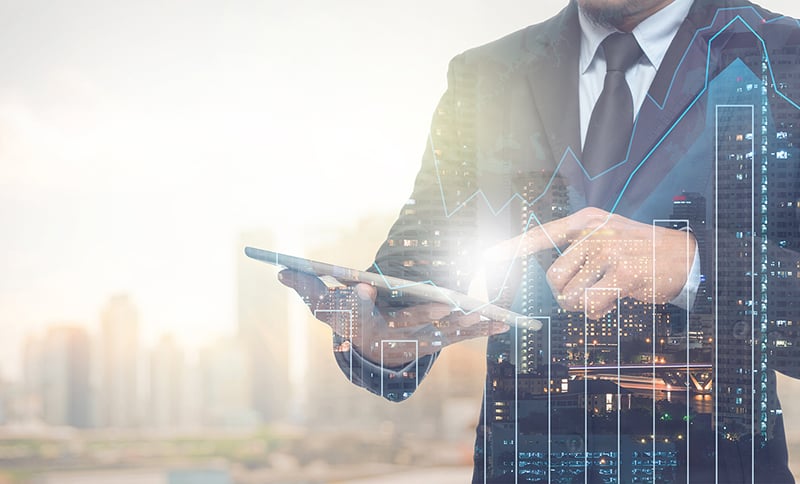 Here are the top 6 Data Center trends to watch:
Competition in the Cloud
Major public cloud providers such as AWS, Microsoft Azure and Google Cloud have seen a massive increase in internet usage. These services will energize demand for large datacenters, pushing timelines forward for new projects as cloud providers can capture new revenue from customers who aren't able to invest in their own infrastructure but want to fortify their networks and services through cloud storage. However, public cloud adoption will be just one option among many. A recent survey from 451 Research found that 38% of colocation providers were just as likely to see themselves competing against hyperscale cloud firms as partnering with them. For the next several years, private hosted cloud, colocation, and some on-premise equipment will be in demand.
Rethinking 5G and the Edge
The rollout of 5G and the growth of IoT devices are expected to drive demand for high data storage and processing capacity. Where the capacity is needed and who will own it may disrupt a centralized datacenter approach. To truly add value, more services beyond colocation may be necessary to help industries take advantage of edge and near-edge technologies. This will require an investment in R&D to better understand how customers want to connect and how those customers want their infrastructure – outsource vs in-house – to operate.
Industrialized Data Centers
The need to support edge computing, 5G, multi-cloud services, big data analytics, and IoT has affected tech budgets. Increased investments from hyperscale cloud providers, colocation service providers, and other enterprises will accelerate datacenter growth. To keep up, multi-tenant datacenter (MTDC) providers and suppliers will be forced to use more prefabrication of subsystems to streamline construction, improving speed and quality control. Managing relationships with vendors will also be necessary to cushion the strain on the supply chain so orders remain timely.
Supply Chain Strain or Success?
The supply chain for digital infrastructure is interconnected and globally sourced. Factory shutdowns in China and other countries caused serious shortages. Industry experts advise datacenter stakeholders to anticipate supply chain disruptions and consider the potential for long-term shortages of critical parts and equipment. Though this concern is a factor for many, STULZ is supply-chain-resilient. We are connected to 11 production plants and 21 subsidiaries throughout the world. We have two USA-based manufacturing facilities with a highly skilled workforce. No product is singularly sourced, so our supply chain remains uninterrupted.
Interest in Direct Liquid Cooling
There will be room for optimizations in datacenters. One of those enhancements will come from direct liquid cooling. Forward-thinking operators are looking beyond air-cooled designs to improve infrastructure economics with DLC. Due to the increase in data usage, rising chip power will force rack- and row-based densities to be higher. This will eventually attract attention to liquid cooling options. To be ahead of this demand curve, STULZ offers custom precision cooling and options to outfit legacy datacenters repurposing dead space to accommodate more servers.
Sustainability
As we continue to see policy changes post COVID-19, sustainability will likely be a hot topic. As resources are voraciously consumed, scrutiny of datacenter operators' environmental impact and social responsibility will increase. Customers of MTDCs will want to ensure their providers meet environmental standards and work actively to reduce their carbon and water footprints. One of STULZ's cornerstone principles is to maximize energy efficiency, reduce waste and leverage environmental conditions in applications. At STULZ, sustainability is not an afterthought.
COVID-19 has changed our world, from our daily routines to an increased demand for IT tools. Despite the challenges presented by this pandemic there is a silver lining of opportunity:
Cloud providers will continue to seek large datacenters in low-cost locations, as well as for network-dense connectivity facilities.

The rise of 5G and IoT will necessitate smaller edge datacenter facilities that require different business models and automation.

Drivers for data centers will remain strong, with the pandemic accelerating (not initiating) the digitization of societal and business functions.

The supply chain concerns are widespread, though business who do not depend on single sourced equipment will not be as affected.

Increased heat load densities will spark an interest in different cooling options creating opportunities for DLC and portable cooling technology.

Changing energy policy and green initiatives will promote eco-friendly solutions across the market.
We are confident that the shifts in online user behavior and expectations will continue to drive growth and development in an already robust data center market.