"The new normal." It feels neither new, nor normal. But in the wake of COVID 19, some changes are here to stay, and it's not a bad thing. Healthcare workers have been tirelessly meeting the challenges posed by the coronavirus pandemic. To do so, they rely on technology to work safely and efficiently. Though telehealth services have been around for a while, many healthcare systems were overdue for a tech overhaul. Security inadequacies, inconsistent management, spotty monitoring, and backup power failures needed constant workarounds. And the current situation only exacerbated the challenges.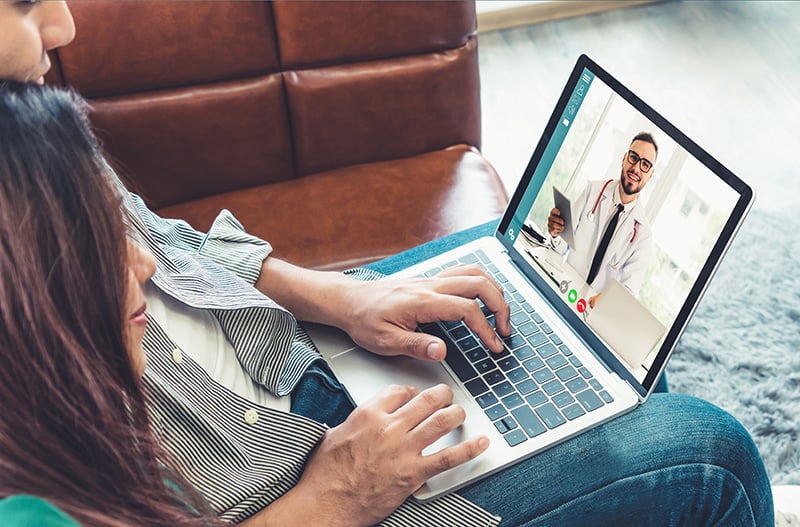 Telemedicine allows a physician in one location to deliver medical services to a patient located elsewhere through the use of telecommunications software. Typically facilitated through a combination of mobile applications, video chat software, and online portals, telemedicine connects patients and doctors without the barriers of distance. This type of service is critical, especially in today's climate. Consequently, as telehealth services continue to boom, digital records must be kept, stored, and securely shared, all within HIPPA compliance. And as healthcare (and all of its components) continue to shift, copious amounts of research and development are needed to stay on the cutting edge of disease, diagnosis, treatment, and best practices.
As these demands continue to ramp up, there will be increased pressure added to existing IT infrastructures. Legacy systems will need to support the data volumes generated by telehealth, wearables, remote patient monitoring, IoT medical devices, digitization of medical records, and the use of supercomputers for essential research. Data centers will continue to build the capacity required to support the medical care and telehealth industry.
Healthcare providers must ensure seamless telehealth services, keep digital records, and support necessary medical research. In order to do so, they must build redundancy into the telehealth infrastructures, modernize legacy systems to support next gen compute, storage, and communication capabilities, and leverage edge computing to guarantee reliability.

The challenge is that many hospitals are still using outdated, on-premises data solutions that are difficult to maintain and scale. While this may have made sense in the early days of electronic health records and the gradual digitization of the healthcare industry, today's providers have much more options to choose from.
To best assess the need and find a matching solution, hospitals, labs, and research centers need to evaluate their current bandwidth to sustain additional, quality services, integration flow with new or existing systems, industry flexibility and agility, and future goals for growth and expansion. This evaluation will identify key strengths and weaknesses in existing infrastructures and may illuminate the next steps in a vital course correction.
Colocation data centers have the reliable infrastructure in place to deliver high levels of uptime while also meeting the exacting demands of HIPAA compliance. Carrier-neutral facilities also make it possible for them to pick and choose what connectivity services they need to deploy services like telemedicine.
Racks and small IT infrastructure may offer a viable solution. Increasing data volumes need more compute, storage, and communication capabilities. Edge infrastructure located across the distributed healthcare environment will house larger switches and routers as well as more powerful servers to enable edge computing. Such a solution will ensure performance and uptime for better monitoring and power management.
What about closets and new edge environments? Closets which were originally designed for telecommunications are now housing servers, switches, routers and more. As more equipment is added, these environments will require new power, cooling, and monitoring solutions.
The pandemic has lowered many barriers to broader telehealth adoption. To facilitate continued progress, healthcare providers and IT professionals will need to work together. The use of data center solutions will not only help handle the current demand, but also leave room for future growth. With the help of purpose-driven solutions and services, STULZ engineers can provide cost-effective, reliable, and efficient products that can replace legacy equipment and enhance mission critical spaces. In collaboration, we can help healthcare providers seamlessly extend access to remote care, sustain research requirements and further digitize for the future.
---
Author: Casey Jon McKay