Growing Up: STEM Cultivation Case Study
STULZ conducts a case study of a successful grow operation at STEM Cultivation in Boston, Massachusetts. STEM Cultivation wishes to maximize grow space with vertical growing – the practice of producing plants in vertically inclined surfaces, or "living walls."
Problem
To do so, STEM Cultivation needs to implement cooling units that can handle tonnage, heat load, and precise climate control to optimize production and crop yield.
Solution Results
The innovative and collaborative STULZ USA application engineering team selected the 5 Ton COS unit (CyberOne Unit) to precisely control the vertical grow space conditions and ensure cultivars benefit from the exact growing conditions required for an optimal harvest.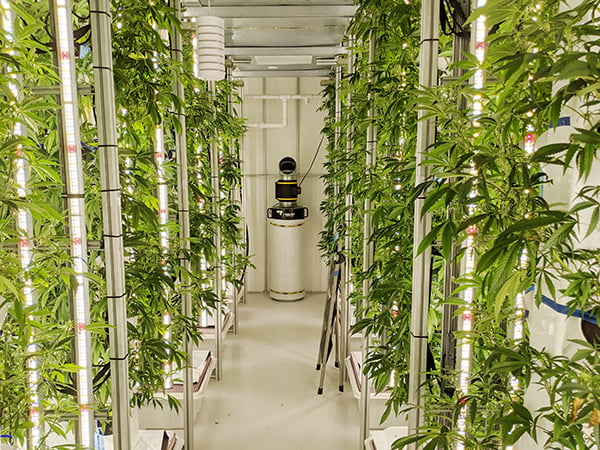 Background
Founded in 2017, STEM Cultivation's mission is to apply Science, Technology, Engineering, and Math to help commercial growers improve consistency, predictability and cost-efficiency of cannabis production. Their team of experts meet the growing demand of a $100 billion cannabis market. They offer a self-contained, rapid-response cultivation platform that includes infrastructure, technology, and subject know-how delivered to qualified commercial growing companies globally. STEM Cultivation solutions are efficient and optimized for high quality, low-cost production at an industrial scale.
Challenge
STEM Cultivation's CEO, Kyle Moffitt, has a background in both architecture and farming, and a mind for applications. After becoming aware of the deficiencies in the cultivation supply chain and the consequent price instability, Kyle's experience inspired him to apply principles of STEM to agriculture. At the onset, aside from a horticultural learning curve, the challenges were twofold:
1.) How to maximize canopy in a volume of space
2.) How to control the environment to optimize growing conditions.
The first challenge was addressed by creating living walls. "We decided to flip the lights and plants and grow vertically," states Kyle. "This allows for more biomass in the same footprint. Not many growers were doing it this way for commercial cultivation, but it made the most sense from an efficiency standpoint." They created the STEM Box, a free-standing room measuring 30 ft. x 10 ft. overall that encapsulates an isolated grow space lined with plants from floor to ceiling. Amazingly, this provides 480 sq. ft. of plant canopy in a 230 sq. ft. footprint! Once they cracked the code to vertical growing, the next challenge to solve would depend on superior climate control and cooling equipment.
In order to sustain higher crop yields, these plants need some serious pampering. They require optimal light exposure, monitored CO2 levels, precise temperature and humidity control, and minimized threats such as pests, mildew, mold, pollen contamination, and thermal stress.
Adding to it, these needs vary throughout the non-linear maturation cycle. A STEM Box supports up to 480 plants in a grow room occupying only 230 sq. ft. of that requires advanced technology and engineering that to maintain perfect growing conditions over a 70-day flowering cycle. The company researched standard HVAC options, dehumidification units, and even reached out to friends in the server farm industry, but no one could handle the precision control of STEM's unique volume and scale. The STEM team turned to STULZ for a solution.
Solution
With considerations such as heat load capacity, latency, and tonnage combined with questions around requirements for the scale of the grow space, the STEM team and the STULZ team connected to determine predictions and set expectations. "STULZ was very helpful. We felt like we had a tremendous amount of direct support throughout the entire process. It was very collaborative," Kyle notes. Implementing a compact solution for efficient cooling in small spaces, STULZ's CyberOne unit was selected for the STEM Box.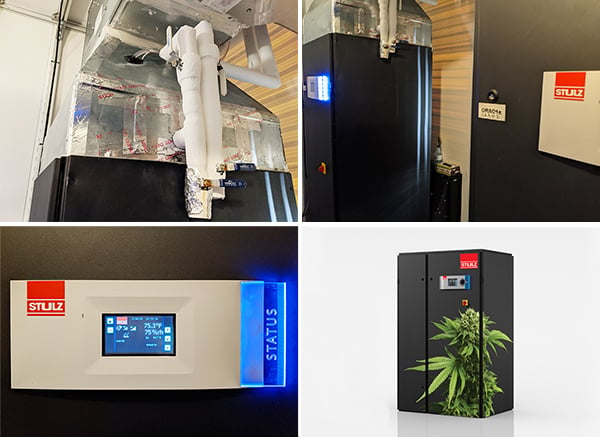 Smartly designed, the CyberOne system is easily tucked into a corner, limiting the amount of space it takes up in the grow room. CyberOne units are especially adaptable to raised floors and are available in various air pattern configurations (see Figure XX). Typically used in data centers, this efficient unit was customized for a cultivation application. Front service access facilitates ease of operation and maintenance. The fan speed is continuously adjustable enabling modifications for unique requirements during each stage of the plant's growing cycle. The STULZ E2 Control and Monitoring system allows precise control of temperature and humidity.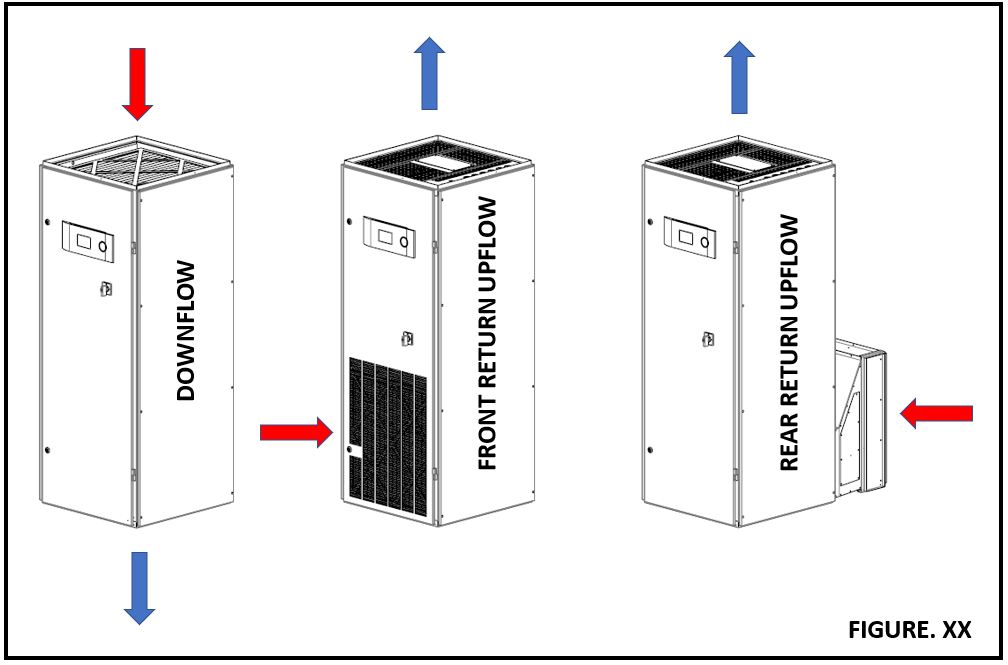 Once STEM and STULZ calculations aligned, it was time to test the unit's efficiency in an active plant cycle. STEM Cultivation had a client out of Reno who needed to fill an order. Based on STEM's small-scale test grows, they expected a dry yield of about 50 lbs (the client expected 30 lbs). Astonishingly, after the test which utilized the STEM Box and STULZ's precision climate control unit, the crop yield was almost double, officially weighing in at 93.125 lbs! Calculating fair market value, the dollar amount associated with this production is over $190K. Kyle predicts that without the use of the STEM Box and STULZ unit, the yield would have been closer to the customer average of about 20 lbs using 40 ft shipping containers (320 sq. ft.). "we were able to produce 93 lbs in 230 sq. ft. It was awesome!"
Results
Why was this performance so much better than expected? "The biggest difference was the ability to maintain precision in the growing environment. The plants got everything they needed and there were no microbial issues. The units performed brilliantly," Kyle concludes. But this technology, while superior in the industry now, will continue to improve contributing to sustainability and efficiency. As the market looks to streamline and standardize processes, taking the lead from innovators like STEM Cultivation, optimizations will be possible.
According to a heat map test on the first harvest, over the 9 week growing period, there was a slight dip in production noted in weeks 4-7. During this time there were challenges to the latent capacity. This chart shows the progression of the latent load in their flowering box as they transition from one growth period to another.
Entering air temps (db/RH)

70/55% D 70/35% N

70/55% D 70/35% N

70/55% D 70/35% N

70/55% D 70/35% N

Type of room

Week 1-3

Week 3-4

Week 4-7

Week 7-9

Number of plants per room

458

458

458

458

Water and lighting

Light on Duration (hrs)

12

12

12

12

Net water use (gal/plant/day)

0.1042

0.145833

0.2083

0.1563

Lighting output per room (kW)

16.32

16.32

16.32

16.32

Latent Load MBH Lights On

12.76187416

17.86086751

25.51150084

19.14281124

Latent Load MBH Lights Off

5.46937464

7.654657504

10.93350036

8.20406196

Sensible Load MBH

55.68615091

55.68615091

55.68615091

55.68615091

COS-060-C X2 @75/55% 2700 CFM Sens

91.7714

91.7714

91.7714

91.7714

COS-060-C X2 @75/55% 2700 CFM Lat

10.07

10.07

10.07

10.07

COS-060-C X2 @75/55% 2000 CFM Sens

75.676

75.676

75.676

75.676

COS-060-C X2 @75/55% 2000 CFM Lat

17.002

17.002

17.002

17.002
*2700 cfm represents max sensible 2000 cfm represents max latent.
"There is still more to test," Kyle says. "The unit is strong and it's a different application, but we need to continue to test the numerous variables, such as box size and the ratio of plant canopy to empty space, to get closer to defining the standard for this industry."
Looking Forward
The intuitive place to start in commercial growing and maximizing yields is with HVAC. "The obvious challenge of ventilation and dehumidification for plants that are transpiring rapidly over the growing cycle leads cultivators to try an HVAC solution first, which we did," says Kyle. "But we soon realized there is no way we could accomplish what we wanted to achieve with HVAC." For precise environmental controls, the STEM Cultivation team knew they would have to spend more to get more. Despite a higher cost to implement, the increased spend was congruent with the increased efficiency and higher yield ratio, resulting in higher profit. Investing in quality, precision equipment, custom built for the STEM Box is the key to realizing efficiency, lower production costs, and long-term results.
STEM Boxes can be purchased or leased, and shipped pre-assembled or as a kit for on-site assembly. To make acquiring this technology more accessible to commercial growers, STEM Cultivation offers the STEM Leasing Program (SLP) with no money down. This is especially beneficial for businesses with smaller budgets, such as boutique brands and Social Equity Program (SEP) participants, who are new to the market and want a competitive edge with the ability to start small, adding STEM Boxes incrementally. For those who have a more established presence, the leasing opportunity is advantageous for asserting market leadership or expanding operations. Whatever the growing need, the STEM Box – utilizing STULZ's precision technology – will take production to the next level.
With over 50 years of specialized experience, STULZ will continue to offer innovative solutions to this evolving market. STULZ's deep bench of qualified technicians and application engineers are located throughout the United States and globally in over 140 countries. STULZ is prepared to offer support and collaboration wherever the market grows, which as far as STEM Cultivation is concerned, is on its way up!
Join STULZ and STEM Cultivation for a webinar discussion on this solution, or visit our website to learn more about precision temperature and humidity solutions for your grow space.