What is a Remote Edge Shelter and what are the types of Shelter Cooling? We will examine these questions and more in the article below.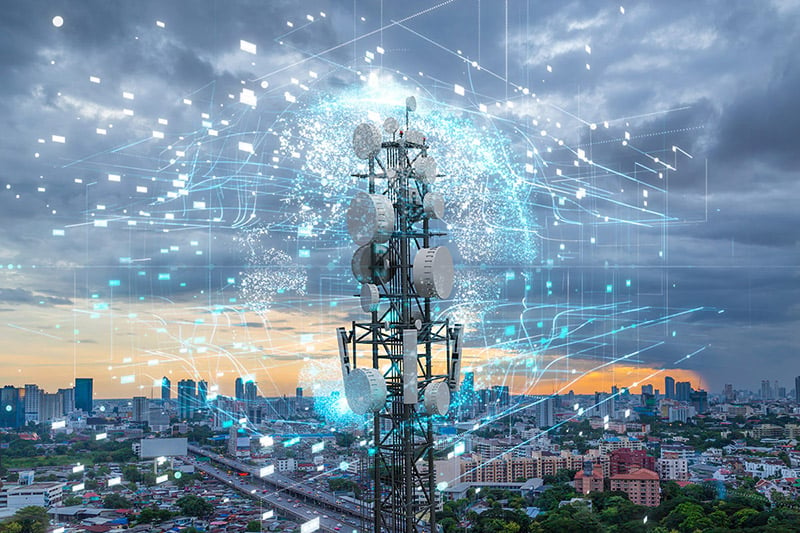 Edge Computing Growth
We've all heard so much about "the Edge" and how the roll-out of 5G this year and beyond will likely result in the need for additional connectivity outside of the typical data center.
What is considered the Edge?
While there are many different definitions, we've come to understand that Edge computing moves some portion of storage and computer resources out of the central data center and closer to the source of data itself. Rather than transmitting raw data to a central data center for processing, storage, and analysis, that work is instead performed where the data is generated.
According to Grand View Research, Inc., by 2025 the U.S. Edge computing market will be worth $3.2B.
The need for edge-based data centers arises from 3 factors; latency, growing data volume and reduction in data processing at large data centers. In fact, it is predicted that by 2023 edge data centers with capacity of less than 1MW will make up more than 54% of the total market. Edge data centers will ultimately have many forms. Remote shelters at or near towers will be one of the more prevalent due to the speed of deployment and the initial capital investment.
There are three main types of shelters that we will explore:
Remote Edge Shelter

Telecom Shelter

Fiber Regen Station
What exactly is a Remote Edge Shelter?
These are basically small data centers. They have all the same attributes but have moved out and away from larger data centers. They do meet the definition of a computer room and that designation does come with some requirements when it pertains to cooling solutions. While we don't know what the maximum densities will be we do expect these remote shelters to house high density.
How is that different from a Telecom Shelter?
Drive down any highway and you'll pass a telecom tower with a small shelter building next to it. Historically, these have housed telecom networking gear for the telecom industry. Currently the densities in those shelters are increasing as more data is being used by mobile technology. The rollout of 5G will have a significant impact on densities in these structures. The increase in densities will bring up questions when it comes to Regulated ITE Cooling versus Unregulated Process cooling. Typically, telecom has been treated differently than a computer room. That will likely shift as data usage increases and will subject these shelters to the standards set by ASHRAE 90.1 & 90.4 as well as IECC Compliance.
What is a Fiber Regen Station?
Officially these are referred to as Optical Communications repeaters and they house signal regeneration equipment. As there is more distance the signals in fiber optic cables can be distorted. These stations help with the transmission of data across fiber optics. As the increase in fiber continues, the heat loads will increase and will likely move these shelters into the designation of a computer room.
It's getting hot in here – Cooling for Remote Shelters
As the number of Remote Edge Facilities increase and as densities in Fiber Regen and Telecom shelters push higher, these facilities move towards meeting the criteria of a computer room. The definition of a computer room as set by the DOE is a room whose primary function is to house equipment for the process and storage of electronic data and that has a design electronic data equipment power density exceeding 20 watts per square foot of continued floor space.
One main requirement for computer rooms is that it must meet the SCOP requirements for CRAC Units in Shelters. This means that we must provide a certain ratio of sensible cooling for the power that we put into the power to cool the units.
Owners and operators will need to be aware of the standards that have been set for cooling requirements for computer rooms. Thankfully, there are clear standards that have been set by ASHRAE.
Thermal Guidelines for Data Processing Environments (TGFDPE)
These guidelines, which are published by ASHRAE Committee 9.9, are the gold standard to providing standardized operating environments for equipment. Currently, these standards are readily used by data center owners and operators to guide them through creating the optimal environments for efficiency, safety, and meeting set standards. These guidelines provide the basis for measuring the effect of any changes that are intended to save energy in the data center as well as proving a methodology for reporting the environmental characteristics of a computer system.
These standards will recommend ranges for temperature and moisture depending on the environmental conditions in the location of the shelters. These recommended ranges allow for the most energy efficient solution. As the ranges (envelopes) increases, it allows the operator to utilize free cooling for many months of the year, further optimizing the usage of energy.
Types of Shelter Cooling
The most common is the through the wall – or exterior contained unit. Typically, these are self-contained DX units. These units allow for free-cooing (air-side economizer) that looks at the indoor and outdoor conditions and utilizes programmed conditions so the economizer will sense when outdoor air is within range to perform the cooling of the equipment, thus significantly reducing (80%) of the energy needed to provide cooling. One concern when utilizing outside air to cool the equipment is the pollutants or contamination in the air. There may be a slight loss in cost savings due to the need to invest in high-quality filters.
Internally Mounted with Remote Condenser
This is a spit air-cooled design, so the cooling unit remains inside while the condenser remains externally mounted outside of the shelter. Typically, outside air is not brought in and while that may reduce contaminants it will not produce the cost savings that an air-side economizer would provide.
Traditional Small Footprint CRAC
There are many configurations and models available on the market. From in-row to front discharge there are many options. Typically, outside air is not brought in with these units but free-cooling can be made available if the outdoor conditions are favorable.
Ceiling Mounted CRACs
These units would be mounted high up in the shelter which would allow for more room internally. Typically, air-cooled splits are the most common, but glycol would be acceptable. Outside air is not used in this type of equipment but they could be configured with an air-side economizer if needed.
Micro Data Centers
The whole shebang! Everything that would be in a brink and mortar data center is available in this stand-alone Micro Data Center. This is an ideal product for the usage of more advanced technology like direct liquid-to-chip cooling. The direct liquid-to-chip cooling allows for extremely high watt densities that could never be handled with air cooling or glycol cooling alone.
Wrap it up already!
There is a lot to learn and many changes to come in shelter designs and the cooling that will be needed to keep them in compliance and running.
More ITE Shelters are being added to support networks everyday

Shelters may or may not need to meet Federally mandated SCOP requirements

Edge compute sites will most likely have higher than average watt densities

ITE equipment should be maintained within the appropriate TGFDPE envelopes

Solar and equipment heat loads must be accounted for

Micro data centers can be drop-in full suite solutions

New Technologies such as liquid cooling are available
If you want to learn more about "Shelter Cooling for Edge Data Facilities, Fiber Regen Stations & Telecom", watch our webinar on this topic here.
As we continue to learn more about the rapid transformation of Edge data centers stay up to date with us by following our Tuesdays @ 2pm webinar series.
---
Author: Lane Gregory
Lane Gregory is the Marketing Manager at STULZ USA, where she leverages her 15 years of experience in both traditional and digital marketing, sales, and media. Lane is also an adjunct faculty member at The George B. Delaplaine Jr. School of Business at Hood College in Frederick, Maryland, where she teaches Advertising Management, Marketing Research and Integrated Marketing Concepts in the MBA program. When not strategizing on how to fill the sales funnel, Lane can be found gardening, cooking, and enjoying the great outdoors with her family.