Last month we introduced the re-designed version of the CyberRow® product line. This re-design offers a cost-effective solution that is ideal for traditional data centers, edge data centers, and medical applications.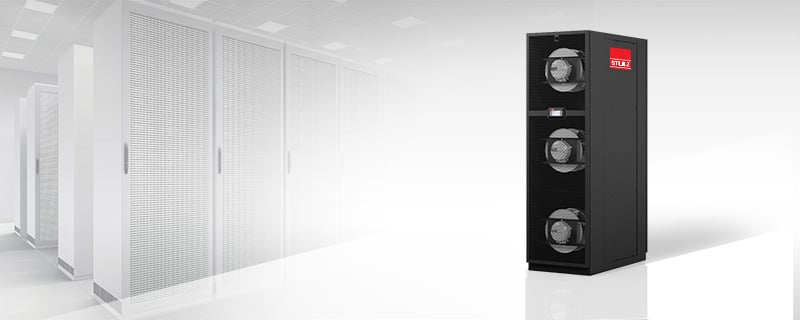 Updated Condensate Pump
The re-design includes an updated 24-volt condensate pump which features:
A Patented Rotary Diaphragm Pump

Self-Priming

No Internal Valves and Non-Clogging Design for Low Maintenance Operation
CyberRow® is ideal for applications in legacy facilities where an increase in watt density per rack and the resulting hot spots are handled. It can be added to both raised floor and non-raised floor applications, as well as in contained and open aisle architecture.
In line with our mission of offering customized solutions for clients, CyberRow® offers data centers and computer rooms of any size for flexibility to scale your capacity as you grow, whether it's a design-build in greenspace, or a retrofit in a high-rise.
Beyond an updated condensate pump, CyberRow® has more features that make it the best option for row-based cooling.
A Design Built for Greater Capacity
CyberRow® offers a unique, slant-in coil design that allows for a greater cooling capacity than other in-row cooling options. By using this design, CyberRow® offers a greater coil surface area to allow for greater heat transfer. When square-footage on the computer room floor is at a premium, CyberRow® offers the highest row-based capacity at the best kW per dollar.
An Economizer that meets the prescriptive path for ASHRAE 90.1
As you build out your data centers, reducing energy usage is always of the utmost importance. STULZ has made a water-side economizer standard in all CyberRow® models, ensuring that your data center will meet the standards set by ASHRAE 90.1. An economizer can save up to 80% of the energy that you'd be using when running compressors. The result: less energy used and greater savings in your data center's operating expense.
Some General Features & Benefits of the CyberRow® include:
Targeted Cooling of Servers for Hot Spot Management

Small Size for Edge Applications and use as an addition to existing data centers

Can be used with racks from any manufacturer

Innovative Technology and High-Quality Components Keep Energy Consumption to a Minimum

Variable Speed Compressor for precise cooling capacity and integrated soft start

Easy maintenance thanks to access from the front and rear of the unit
As the landscape for mission critical applications is dynamic, we want to help you evolve with it. Drawing from over 50 years of precision cooling expertise, STULZ is your One Source for data center solutions that are innovative, top-quality, and always energy efficient. For more information on the CyberRow®, find your individualized STULZ contact here.
---
Author: Drew Shannon
Drew Shannon is the Product Marketing Specialist at STULZ USA, where he manages information and life cycles across the wide array of STULZ USA products. He comes to STULZ from the newspaper industry, where he spent 5 years managing a national performance advertising program. Drew lives in Frederick, MD with his wife, 2 dogs, and cat, but is a Carolina boy at heart and constantly yearns for good barbeque. When not nose-deep in a product manual, Drew is either watching racing or on a trail with his wife and dogs.