Precision cooling units have special applications beyond servicing data centers. Preserving history is one of them. In the heart of Old San Juan stands Castillo San Cristóbal, one of the largest fortresses built in the Americas. Its construction began in 1634 after a devastating land attack from the Dutch exposed vulnerability in Old San Juan's defenses. Over the course of 150 years, military engineers designed the impressive stronghold on higher ground complete with three levels and a labyrinth of tunnels that, in its prime covered, 27 acres.
During the Spanish-American War in 1898, United States Navy ships attacked Puerto Rico. The aged cannons were unable to withstand the assault and the Spanish military surrendered within 24 hours. Puerto Rico became a US territory six months later. The US continued to use the fort as an active military base. Concrete pillboxes and an underground bunker control center were added to San Cristóbal's fortification during World War II.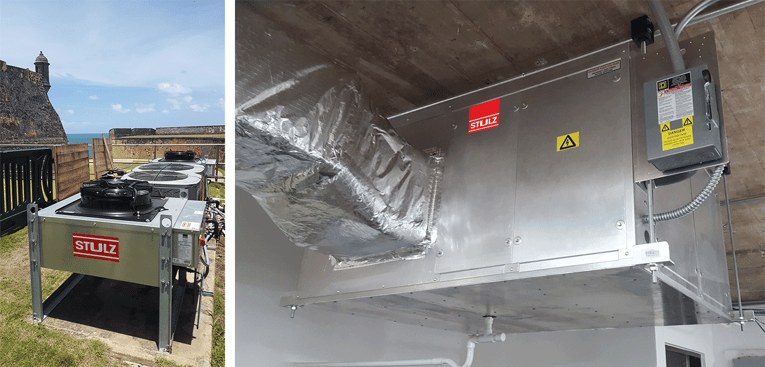 Today, the fort has been designated as a National Historic Site and falls under the US National Park Service jurisdiction as a museum. Parts of the bunkers have been converted to archival storage which require routine maintenance for upkeep and repair. The underground environment poses unique challenges requiring precise temperature and humidity. Standard commercial air conditioning would not be sufficient to safely store valuable antiques and artifacts.
Joining forces with the Department of the Interior, STULZ engineers were able to offer and implement a viable solution. STULZ specified ceiling mounted precision cooling units and condensing units to control temperature and humidity for the exact requirements necessary for continual operation.
STULZ's CeilAir is the most complete line of ceiling mounted data center cooling solutions in the industry. While often used in data centers, it is applicable to critical environments where floor space is premium and an array of chilled water (CW) and direct expansion (DX) solutions are optimal. It was a perfect fit for the San Cristóbal fort-turned-museum. Standout features include.
DX systems with independently circuited, high efficiency, high reliability, and low noise scroll compressors
Wide range of options with DX or CW for precision cooling
High static blowers are available for ducted systems
Condensate pumps can be factory or field installed (in some models)
High efficiency EC Fans available in certain models
Fully accessible through easily removable side access panels
Smaller capacity units easily mounted in a standard 2' x 4' grid of a dropped ceiling plenum
From maintaining bunker archives to precision cooling in data centers, STULZ has occupied the frontlines of industry innovation for over 40 years. With a collaborative spirit, highly skilled engineers and specialists rise to meet the challenges of unique mission critical environments all over the world. Finding new ways to apply technical principles drives the STULZ team to think outside the box and deliver purpose-built solutions for numerous applications.