Today I am proud to announce the launch of the STULZ Mini-Space EC precision cooling system for small IT spaces. The Mini-Space EC provides up to 12 kW (41 MBH) of cooling while only occupying a 2 ft. x 2 ft. (0.6 m x 0.6 m) footprint making it ideal for small IT and telco closets, high-rise buildings, laboratories, and other constrained spaces.
STULZ is proud to have the broadest offering of chilled water (CW) and direct expansion (DX) precision cooling capacities in the industry. The Mini-Space EC is the smallest floor mounted computer room air conditioner (CRAC) in our product line. Our standard catalog floor mounted solutions go up to 750 kW (2,600 MBH) and beyond for custom indoor air handlers and other user driven designs.
The new Mini-Space EC is available with CW or DX cooling in both up-flow (top discharge) and down-flow (top return) configurations with options for bottom discharge (under floor), front discharge (direct room supply), and ducted rear return (with external filter box).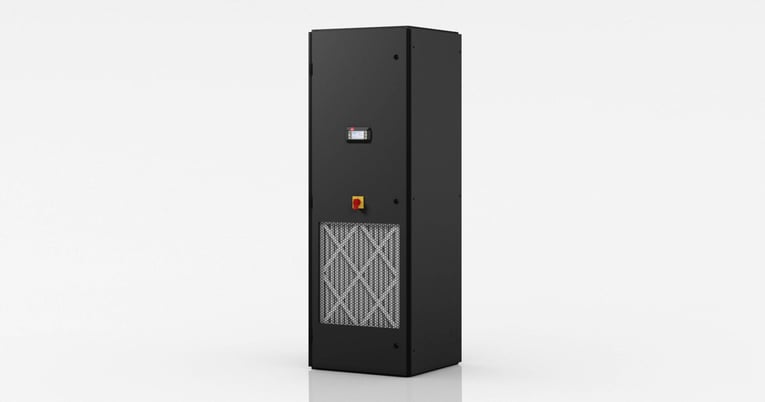 The Electronically Commutated (EC) backward curved plenum fan is the key to this product's efficiency. Because it shares many of the same design aspects of the other STULZ floor standing products, we are able to provide a fully scalable air volume with EC Fans that are designed to operate at reduced speed. The result is significant energy savings and lower maintenance costs compared to belt driven forward curved fans. The small footprint and reliability make this product an ideal solution for IT users, engineers and contractors looking to provide a space friendly and dependable cooling solution that eliminates hot spots.
The STULZ Mini-Space EC joins the STULZ CeilAiR® overhead units, STULZ CyberRow rack cooling units, CyberPack packaged rooftop units, and the STULZ Micro Data Center as a solution for small data center applications. The Mini-Space EC is fully compliant with DOE regulations and meets the requirements of ASHRAE 90.1-2013 for data center cooling units.
It's an unfortunately reality that even in 2017, residential (comfort) cooling equipment is too often misapplied in small IT spaces. This is bad for both the equipment owners and the environment. Comfort cooling equipment is not designed to run 24/7 or to maintain the tight tolerances required for IT cooling, which results in unscheduled down time and unplanned maintenance costs. In contrast, STULZ' mission critical equipment is designed to accept the high sensible heat loads produced by IT equipment, and is more efficient with higher return temperatures. When you consider the total cost of ownership, the STULZ Mini-Space EC is the best solution for providing mission critical cooling in applications where minimal floor space is available.
The STULZ Mini-Space EC is available for order in North America from STULZ USA and its sales partners.