We're proud of the team we've gathered at STULZ USA and want to use this platform to introduce you to some of them! We'll be sharing an employee each month and there's no one better to start with than the 2019 recipient of our Corporate Value Award: Zach Book. The Corporate Value Award nominees are chosen by their fellow employees and one recipient for the year is selected as someone who exemplifies outstanding integrity, flexibility, reliability and expertise in their field.
We hope you'll take a moment to learn a little more about Zach below!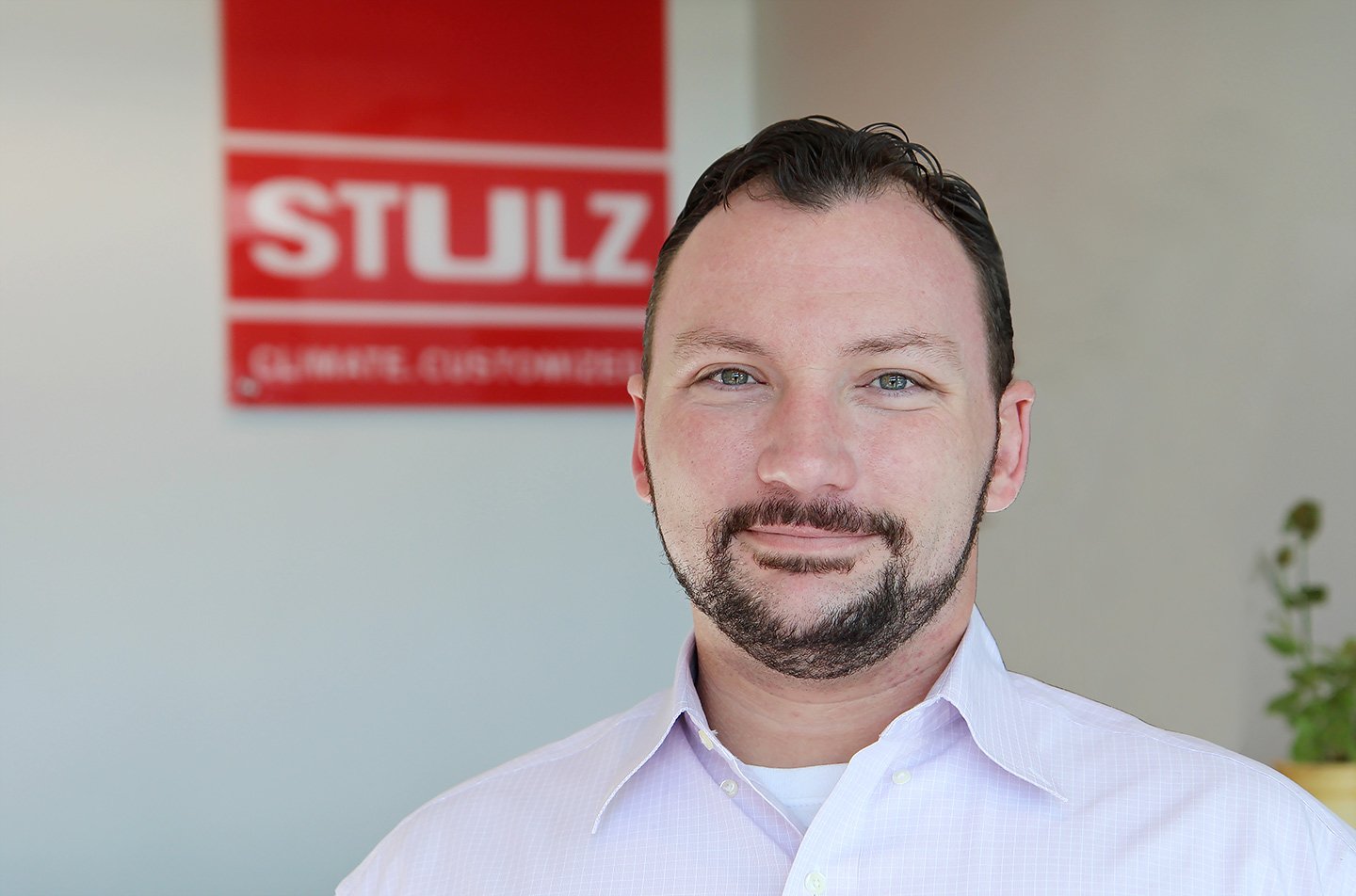 How long have you been with STULZ?
I have been with STULZ for the past 2 ½ years. I spent the first year as an inspector in the Quality Assurance (QA) department, using my Army Corps of Engineers Certification in Quality Control and Quality Assurance. After QA, I transitioned to the Inside Sales Team.
What is your current role at STULZ?
I work as an Inside Sales Coordinator and my job encompasses a variety of roles & responsibilities. A large part of what I do involves supporting our sales partners as they onboard new offices throughout the US and Canada. This involves familiarizing them with our sales tools and equipment so they can be a STULZ expert for the customer. I also work with our regional sales managers and independent sales reps in North America. Since customers often have unique requirements, I am here to help review, select and configure equipment based on the customer's specific design, performance and application needs. I provide pricing proposals and submittal packages based on those needs. Our department ensures that orders are successfully transitioned throughout the various departments and into production. We continue with our projects through their production life-cycle and communicate these stages with our customers until the equipment is installed and ready for start-up. At that time, we transition them over to our field service group.
Before working at STULZ, what was the most unusual or interesting job you ever had?
The most interesting project I worked on was a modernization project for Union Station in downtown Washington DC. Union Station is an extremely busy central hub and we had to formulate a plan to remove six escalators while the station was up and running. Since two of these were directly above the railroad tracks we requested that the Washington Transit Authority shutdown those tracks for brief periods while we cut the old escalators out in small sections. Seeing this completed successfully and navigating the project to overcome this challenge was an achievement for both me personally, and the team.
What motivates you to wake up and come to work?
I enjoy learning new things from the people and industry I work in. I also enjoy being mentored by the executive team. I am learning through experience how manufacturing can play a key role in the success of not only a mechanical contractor that is installing the equipment but also for the end user, as it provides innovative solutions for complications that arise. I believe STULZ does an awesome job at constantly evolving to be at the forefront of technology, utilizing new ideas to integrate equipment outside of the traditional setup. This helps to better serve both the installer and end user. I enjoy being part of a team that envisions and delivers these changes and contributing the knowledge I have from my past experience in another industry to make each job a success.

What has been your favorite project at STULZ so far?
I don't have a favorite project but my favorite part of the job is when I hear how impressed either an end user or contractor is with the selection and quality of our equipment once a project is successfully sold, produced, delivered, installed and through commissioning. Knowing that even though every project has its hurdles, that seem tough in the moment, that by working through them as a team we are able to deliver a quality product that the customer is happy with. This helps prove what sets us apart from our competition; our dedication to help every customer be successful.
What is your favorite quote?

"I have not failed; I have just found 10,000 ways that don't work."
~ Thomas Edison
What is your favorite sport/team?
Redskins – even though it's always a rough year!
When you're not configuring the best cooling solution for a customer, what do you like to do?
I love to play golf, tennis, and enjoy nature and the outdoors.
---
We hope you've enjoyed getting to know Zach Book! Come back in February for our next employee spotlight, and be sure to sign up for new blog notifications.