Interview with a Leading Mission Critical Cooling Expert
We're mixing things up today and doing an interview with Dave Meadows. Dave is the Director of Technology at STULZ USA and is ready to share some of the knowledge he's gathered over his 20+ years in the data center industry. Come along as we talk a bit about the past, present and future of the industry with Dave!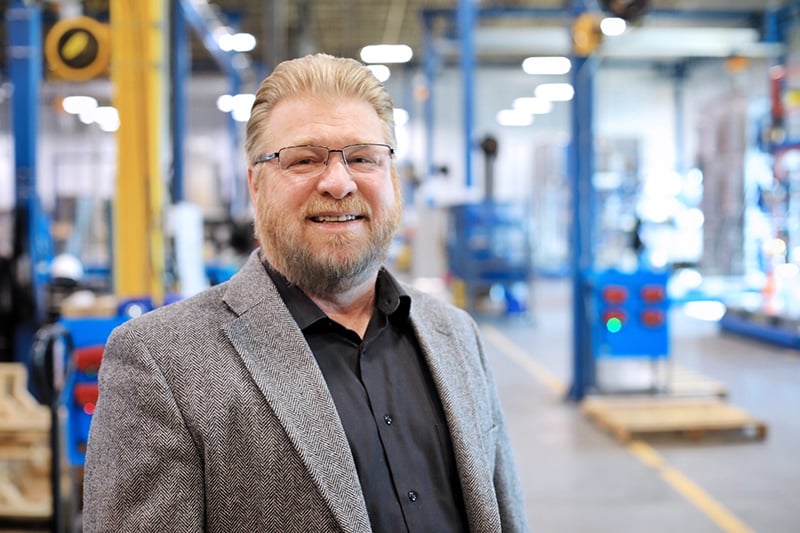 First, let's learn a little bit about Dave...
As I mentioned, Dave has over 20 years of experience in mission critical technologies and participates in numerous industry committees and panels throughout the year. Dave is a voting member on several ASHRAE committees, as well as a Member of the Green Grid where he participates in their global technical committee. Dave got his BS in Mechanical Engineering from the University of Maryland, Baltimore County and is a proud graduate of the United States Navy Nuclear Power School.
Now that you know a little more about Dave's background, lets dive into the good stuff!
Lane: Dave, 20 years is a long time to watch a dynamic industry such as this go through changes. What are the biggest changes that you have seen since you started back in 1999?
Dave: Wow, there has been so many changes Lane, where to start? When I got into the industry I was a mechanical design engineer designing new computer room air conditioners (CRACs) and computer room air handlers (CRAHs). The capacities were pretty low at the time as low footprint of the HVAC system was a critical design goal. It seems to me that we were building mostly air cooled split systems, the vast majority were downflow units designed to sit on the then ubiquitous raised floor plenum. Today there is a real diversity to the cooling systems that just didn't exist 20 years ago. We can see data centers cooled by direct and indirect evaporative systems, energy wheels, large fan wall units, and giant CRAHs that can cool over a megawatt with a single unit.
Lane: Other than the equipment itself what else has changed the data center world in the last 20 years?
Dave: I guess the simple answer is almost everything. Regulations, environmental envelopes, watt densities, virtualization, slab floors, the cloud, and hyperscale facilities just to name a few.
Lane: You led off your list with data center regulations, how has that changed over time?
Dave: Well prior to 2010 data center cooling equipment had no minimum energy efficiency requirement, they were exempt under the process cooling clause in ASHRAE 90.1 (Energy efficiency for buildings other than low rise residential). In the 2010 version of that standard we first saw an efficiency metric specific to CRACs, that metric was the sensible coefficient of performance (SCOP). At first it didn't really have any teeth because it took time for states to adopt that version of the standard but over time as it was adopted, we needed to ensure our CRACs met the SCOP requirement. Then the state of California adopted the minimum SCOP requirement and required testing in accordance with ASHRAE 127 to verify the performance as part of their title 20 program. Next, the DOE codified the efficiency requirement in title 10 code of federal regulations around 2016. The DOE is currently looking to upgrade the SCOP requirements to add ceiling hung, and horizontal flow CRACs to the federal requirement. That is a lot of change in only 10 years.
Lane: What has changed about the environmental envelope that you see being maintained in data centers today as opposed to what was the norm back in the 2000s? I know temperatures have been rising over time, do you see this as a good thing?
Dave: The recommended thermal guidelines for data processing environments has evolved significantly in the last two decades. When I started it was not uncommon for data centers to be maintained in the mid to high 60's (°F), I remember going to a financial services provider's data center in New York City where they actually provided jackets for their guests who were touring their facility. The thought was the colder the room the safer the servers. The problem with this is that it takes a lot energy to keep a room that cold and energy usage costs money and impacts the environment. By allowing the envelope to expand in both temperature and humidity we can see real gains in energy efficiency, by using economizers, both air and water, many more hours out of the year. When we cool with economizers we can turn off or turn down our compressors in the CRACs or Chillers, this allows us to save 80% or more on our energy usage for any given data center heat load.
That was kind of a long winded answer but to get back to your question of "is this a good thing" I think the answer is a resounding "yes". By utilizing the expanded envelope we can reduce our operating costs while being better stewards of the environment. It is a win-win proposition.
Lane: What emerging trends in data center cooling have surprised you? Has anything caught you off guard, maybe something that you didn't anticipate?
Dave: I guess the direction that the custom air handler market has gone is the most surprising to me. The WallFlow CRAHs are a good example. In the past the cooling came into the building as an add-on and now the units are designed into the building as an integral component. To make this work as a vendor you need to have a very robust design engineering group and the flexibility in your manufacturing processes to crank out some very custom pieces of equipment. Fortunately STULZ has always been in the custom design market so we had a strong base group in place and we have continued to add talented engineers as the demand outpaced our capabilities. We also opened a new manufacturing facility in Dayton Tennessee last year to augment our custom capacity. I believe the days of buying CRACs and CRAHs out of a catalog may be passing as far as large data centers go.
Lane: We are having this conversation in the middle of a worldwide pandemic. How has COVID-19 affected the data center market in general? What do you foresee as the long term effects on the industry?
Dave: I'm not concerned about our industry, if anything there is greater demand now then there was last year, and the data center market was on fire last year. I'm very concerned about the health and safety of our workers here at STULZ, as well as the workers at the vendors in our supply chain. So far we have been very fortunate and remained diligent in our steps to keep our workforce healthy. Data center infrastructure providers were deemed essential early on in the pandemic and I think that was the right call. Data centers now are as critical to our society as the telephone company was in the past.
My prediction is that COVID 19's effect on the market will be to drive continued growth. A lot of the technology that we use today in place of business meetings, in-person schooling, in-person doctor's visits, etc. will become ingrained and its use will continue to some extent after the crisis passes. This means more servers to handle the increased work load and more and larger data centers to house, power, and cool those servers.
Lane: Dave, as you start your third decade in this industry what insights if any can you share on the direction that data center cooling will take in the future.
Dave: Lane, that makes me feel very old, and fortunate at the same time. I doubt that my crystal ball is any better than anyone else's but I'll take a shot at answering it. I believe that liquid cooled servers will someday replace air cooled servers. I believe this because the physics and the economics will dictate the need for more efficient ways to remove the heat from the data center. A data center designed around liquid cooled servers will be more sustainable and use less energy for the same amount of computing. It will also allow for higher watt densities than its air cooled predecessor. I don't think this change will take place tomorrow or next year of maybe even the next 5 years but I think it's time will come and I'm glad that we here at STULZ are preparing for that day.
Lane: Great, well thank you for taking the time to share your thoughts today.
Dave: You are very welcome.
If you want to hear more from Dave, be sure to check out our Tuesdays at Two Webinar Series. Our next webinar is on Maximizing your Footprint with a Modular Data Center, where Dave will be joined with industry experts from TAS Modular Solutions and Hewlett Packard.
---
Author: Lane Gregory
Lane Gregory is the Marketing Manager at STULZ USA, where she leverages her 15 years of experience in both traditional and digital marketing, sales, and media. Lane is also an adjunct faculty member at The George B. Delaplaine Jr. School of Business at Hood College in Frederick, Maryland, where she teaches Advertising Management, Marketing Research and Integrated Marketing Concepts in the MBA program. When not strategizing on how to fill the sales funnel, Lane can be found gardening, cooking, and enjoying the great outdoors with her family.