How do we maximize data center potential through efficiency? The answer can be summed up in a single word: Flexibility. The hot topics of a recent data center deep dive

webinar

were cooling solutions that not only maximize efficiency, but also transform operations and capacity. In today's rapidly shifting world, the cornerstone of success here hinges upon the ability to be flexible.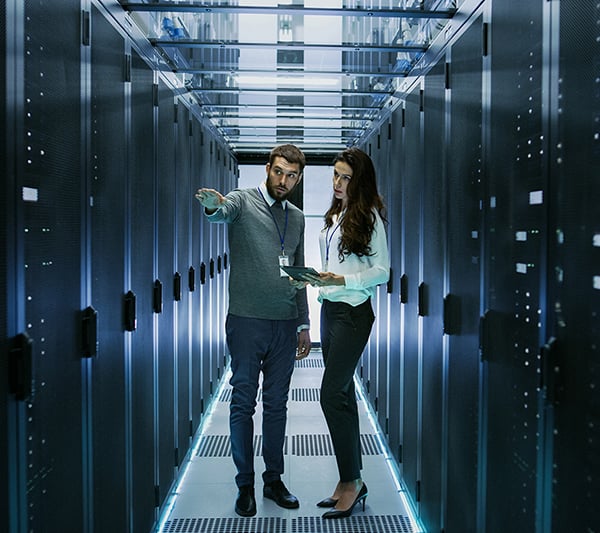 A Task for Engineers
All data centers are not created equal. They have different applications and serve all types of customers. And the task of maximizing efficiency ultimately begins with engineering. The challenge presented by an evolving market is the ability to anticipate a customer's unique needs while leaving room for adaptability. Few and far between are the days of fully configured designs. Now, the push for engineers is to build a core or shell and deploy units, adjusting for each opportunity as required.
Meeting the Demand for More
With more demands placed on data centers - from hyperscale to tier 2 or 3 - there is a rising demand for density requirements. How can engineers build for higher density capacity? The answer, again, is flexibility.
Engineers focus on modularity to handle high rack densities and continue to develop hybrid cooling solutions such as chilled water infrastructure, hot aisle containment, and direct liquid cooling (an up-and-coming solution to keep an eye on). As technologies are continuously changing, what is considered the maximum in terms of efficiency, cooling, space, and cost will change too. The key to success is engineering solutions that can be adjusted to improve performance while operating within a recommended (and at times, allowable) range without overload.
The New Normal
The global pandemic forced unprecedented conditions and, while rising to meet those, in turn, propelled growth in the data center sector. Supply chain concerns have come from both ends: from the side of the suppliers/vendors and from the side of the customers/end-users. As the global market is dominated by hyperscale data centers, being able to respond to those hefty requirements has been a challenge. But companies such as STULZ, DC BLOX, and NTT Global Data Centers, all participants of the webinar, find that flexibility in production diversification has allowed a surge rather than a stall in company growth.
On the consumer side, safety, security, and compliance have been reenergized as priorities. Engineers now focus on ensuring safety and convenience for end-users with low- to no-touch access in and out of data centers. Especially in life science and health care applications, keeping people protected, material and equipment secure, and technologies compliant while still operating in-scale for efficiency are the demands of the new normal.
Beyond the supply chain, attracting skilled labor is another urgent focus for data center managers and operators. With the growing opportunities, it is essential to safely bring new employees into the industry. Internal flexibility such as remote training and on-site safety precautions have facilitated this process, filling open positions across the globe.
Listening and Learning
Here's an analogy: Engaging with customers to increase efficiency is what stretching is to be able to hold the pretzel-shape yoga pose. Collaborating with customers and suppliers is critical in order to be truly flexible. These discussions shed light on what needs exist, what constraints are in place, and where opportunities for growth and optimization lie. Fostering relationships through open communication and enterprise engagement puts long- and short-term goals into perspective. It allows engineers to think outside-the-box and develop fitting solutions for maximum results that don't just work today but will work in the future.
STULZ Stretches
Just-in-time builds, modular designs, supply chain resilience, contingency planning, and collaboration are all critical components of success in optimizing potential through efficiency. And flexibility in each endeavor makes this possible. With over 50 years of specialized experience, the STULZ teams – spread across 140+ countries – are committed to remaining agile. As a customer-focused, innovative leader in air cooling solutions, STULZ engineers collaborate with clients and partners globally in the never-ending pursuit of "maximums." While others like to flex to show power, we prefer stretching to show endurance.
In case you missed it, be sure to check out our Webinar, "Maximizing Data Center Potential Through Efficiency."
---
Author: Lane Gregory
Lane Gregory is the Marketing Manager at STULZ USA, where she leverages her 15 years of experience in both traditional and digital marketing, sales, and media. Lane is also an adjunct faculty member at The George B. Delaplaine Jr. School of Business at Hood College in Frederick, Maryland, where she teaches Advertising Management, Marketing Research and Integrated Marketing Concepts in the MBA program. When not strategizing on how to fill the sales funnel, Lane can be found gardening, cooking, and enjoying the great outdoors with her family.