Improve the efficiency in your data center with cost effective fan retrofit and air handler replacement solutions.
Finding ways to improve the efficiency of Computer Room Air Handler (CRAH) units is critical for today's data center owners and operators. It's an added bonus when you can make optimizations without breaking the bank. Depending on the situation, you may be able to avoid purchasing a new unit and save money with a retrofit replacement solution.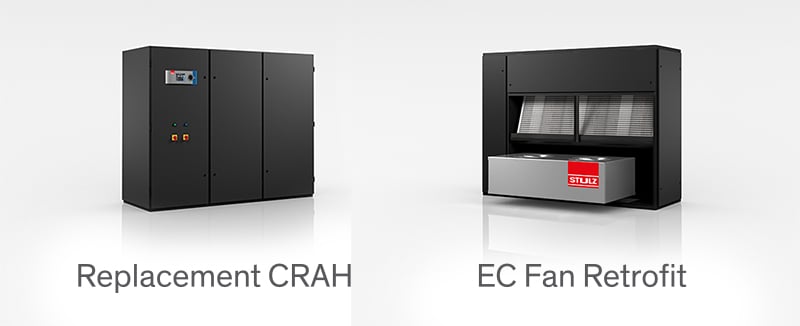 Let's consider one possible scenario. Replacing your entire cooling unit may be the most efficient measure to take if:
Your CRAH unit has been in service for about 10 years
The unit has not received regular maintenance
The unit has been exposed to excessive air or chilled water
While you will spend more upfront with a full replacement, in a short period of time, you will recover efficiencies and increase cooling capacity by operating a new CRAH unit. And you don't have to redesign your data center to do so. STULZ Replacement CRAHs are high capacity, direct drop-in, chilled water units with modern features, such as an EC fan. Additional benefits include:
No modification to existing piping mains, primary electric, or floor stand
STULZ V-Coil arrangement
Energy saving advantages of up to 40%*, simply by replacing the CRAH
Additional energy savings of 50%* and beyond can be achieved using advanced controls
Increased air volume at maximum fan speed
EC Fans operate at lower speeds, lower energy, even airflow
Fast ROI; qualifies for utility rebates
Provides advanced communication and control capabilities
Reduces maintenance costs
But what if you don't need a whole new unit? If your CRAH unit is technically acceptable but is fitted with a belt driven blower, you may want to consider an EC Fan replacement to achieve quick results and maximum efficiency. STULZ developed the CyberMod EC Fan Retrofit kit to easily replace the costly centrifugal fan section for a clean upgrade to legacy data center air handlers.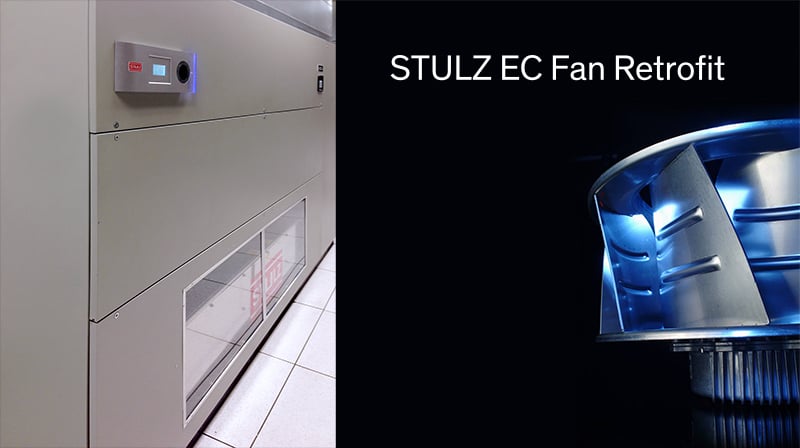 After testing, we concluded that EC Fans are more efficient than variable frequency drive (VFD) motors at partial load because they maintain efficiency throughout the entire speed and load range. They do not rely on incoming line voltage, and therefore produce more precise air flow. The lower motor temperatures result in a higher net cooling capacity, potentially reducing the number of air conditioners required. This considerably reduces your operational expenditures, (OPEX). Perhaps the greatest benefit of CyberMod is the dramatic improvement in the way conditioned air is distributed to the raised floor, eliminating hot spots.
The straightforward retrofit is minimally intrusive to IT operations. A CRAH is taken offline, and in just a few hours is returned to operational status with better fan technology, higher fan performance, and lower energy consumption. The retrofit can be scheduled to take the least number of CRAHs offline at any one time, giving the user flexibility to conduct the work in phases.
Additional stand-out features and benefits of the CyberMod include:
No changes required to the primary electric or piping
Provides superior air distribution
Built-in fan redundancy
Easy installation
Quiet operation (low vibration, no inverter whine)
Low maintenance (no belts to adjust, no belt dust, no greasing as experienced with centrifugal fan assemblies)
2 and 3 fan configurations available
Energy saving advantages: 20%** by replacing the fans only, at full flow
Up to 60% when allowing additional control options, partial load operation
EC Fans operate at lower speeds, lower energy, even airflow
EC Fans consume less energy, therefore higher net cooling capacity
EC Fans provide optimized under-floor pressure and balanced airflow
Fast ROI - typically within 2 - 4 years and qualifies for utility rebates
Decades of experience combined with a commitment to innovation has motivated us to develop solutions that boost operational efficiency and cut costs. With a simple site survey we can help calculate ROI and determine if legacy equipment is suitable for retrofit. We look forward to discussing this opportunity with you!
*Savings estimate is derived from actual performance test results of STULZ CCD-1805 CWE-LR vs. (1) Liebert model FH740C, at 16,500 cfm, against 0.3" of external static pressure. Results may vary.
**Savings estimate is derived from actual performance test results of (1) Liebert model FH740C with 10 hp forward curved centrifugal fan vs. (1) Liebert model FH740C modified with the STULZ EC Fan retrofit kit, against 0.3" of external static pressure. Results may vary.
---
Author: Lane Gregory
Lane Gregory is the Marketing Manager at STULZ USA, where she leverages her 15 years of experience in both traditional and digital marketing, sales, and media. Lane is also an adjunct faculty member at The George B. Delaplaine Jr. School of Business at Hood College in Frederick, Maryland, where she teaches Advertising Management, Marketing Research and Integrated Marketing Concepts in the MBA program. When not strategizing on how to fill the sales funnel, Lane can be found gardening, cooking, and enjoying the great outdoors with her family.