It might seem like data centers are all the same but this couldn't be further from the truth. In reality, the needs of an individual data center are as unique as the owners and operators who run them. Every company and every location has specific requirements for their application. And while many data center components are only available with standard sizes and options, STULZ creates 'user driven, custom designed, purpose-built' solutions for our customers.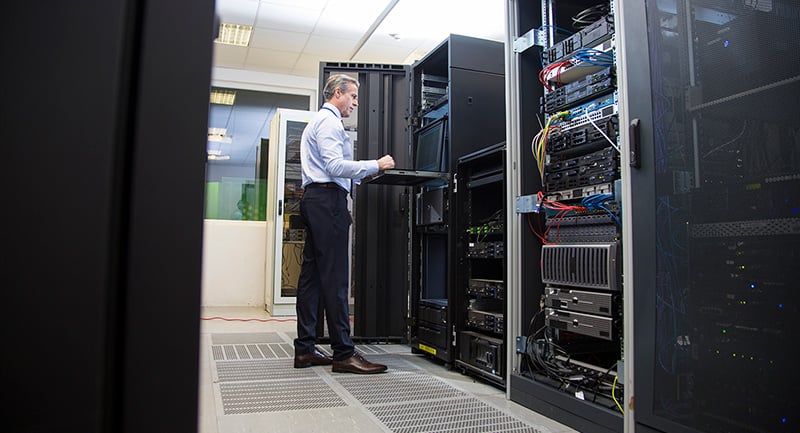 User Driven
We have a long history of collaboration with our customers. We know that just offering a standard portfolio of proven solutions isn't all that is needed. We need to go above and beyond in our partnership with our clients. Here, we have the added benefit of our heritage. We are a family owned business. The Stulz family has run The STULZ Group since it was started in 1947. This family-centric company atmosphere has allowed us to stay focused on the individual customer even as we grew into a leading international supplier.
When data centers first sprung up everywhere in the 1970s, STULZ was already an active supplier of air conditioning solutions. The combined office and equipment rooms common in those days posed a particular challenge, because the differing needs of both people and technology needed to be taken into consideration. In 1977, STULZ introduced air conditioning systems in modular form – a groundbreaking innovation that laid the foundations for our international reputation as a specialist in efficient air conditioning.
In the 1980's and 90's, office and IT rooms were increasingly being separated.
Since then, contemporary data centers have grown in size and performance at a breathtaking rate. For them, STULZ offers solutions that are as progressive as they are reliable.
Custom Designed
Innovation. Efficiency. Reliability. These are key components to the design and manufacturing process at STULZ. Using our vast industry knowledge and building upon decades of temperature and humidity expertise, we respond to all specifications and wishes in a highly individualized way. It helps to have a vast product portfolio to build upon and a full team of specialized engineers on staff at our headquarters in Maryland.
Our team provides expertise to choose the ideal solution for your specific application. Sometimes, this is a standard product but often there are specific requirements that need to be considered in the design. In this case, our engineers work to create a new solution, based on proven technology and incorporating the individual requirements.
Many of the standard solutions offered in our portfolio today were born from these custom designs.
Purpose-Built
Our solutions at STULZ USA are engineered here, manufactured here, and are installed and serviced by our factory trained and certified technicians. This allows us to react quickly as the industry evolves and to continue innovating for the specific needs of our customers.
"It is an unfortunate, yet common reality that many companies will produce the majority of their components overseas and then claim to be 'Made in America', simply because the final assembly occurs domestically. At STULZ, we do our own engineering, metal stamping, electrical wiring, powder coating, controls programming, piping, and testing. To us, this is what 'Made in America' means." – Joerg Desler
Our engineers work directly with manufacturing to create custom solutions on-site. Being able to see the projects in-person, from concept to completion, is invaluable to fulfilling the needs of our customers.
Faster, larger, more reliable: the demands of and for data centers are growing every day. Whether you are building a new, ultra-modern data center or upgrading an existing one – in most cases change is the only constant. And it's no different at STULZ, for we are working tirelessly to ensure that all our developments are always one important step ahead. We are therefore able to satisfy all our customers' requirements and demands wholeheartedly and in every respect – in data centers, communications technology and industry alike.
---
Author: Lane Gregory
Lane Gregory is the Marketing Manager at STULZ USA, where she leverages her 15 years of experience in both traditional and digital marketing, sales, and media. Lane is also an adjunct faculty member at The George B. Delaplaine Jr. School of Business at Hood College in Frederick, Maryland, where she teaches Advertising Management, Marketing Research and Integrated Marketing Concepts in the MBA program. When not strategizing on how to fill the sales funnel, Lane can be found gardening, cooking, and enjoying the great outdoors with her family