As companies continue to support incredible IoT demands with edge computing, the stress on data centers steadily increases. This has highlighted the insufficiencies and challenges of traditional room-based cooling systems. For high rack density IT requirements and hot spots in any size data centers, including modular, it's time to consider row-based cooling as a smart alternative.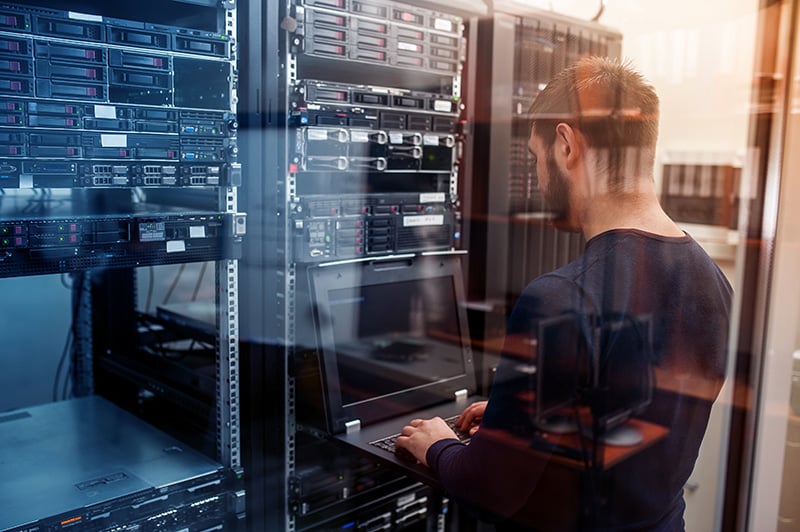 Traditional Cooling is Not Cool Enough
The traditional method for removing heat in a data center is to utilize perimeter cooling units which push cold air up through a raised floor, with no containment such as air blocks or partitions. Air conditioners bring cold air into the space, mixing with the hot air to eliminate hot spots and control temperature. If the energy used to power these systems is not significantly less than the equipment's energy consumption, this method is ineffective and costly. With installed IT density demands approaching and exceeding 20kW per footprint, more heat is being rejected into the data center space. More energy is required to power cooling fans as they work to support increased thermal loads. Clearly, the traditional cooling approach can't keep up.
Row-Based Cooling Does the Job
If you find yourself facing similar challenges for your IT applications, don't fret. There are solutions that do a much better job of supporting higher rack densities for data centers of all sizes, designed to seamlessly integrate with new or existing infrastructure and precisely control temperature and humidity. One such energy-efficient solution is our CyberRow.
The latest generation of row-based cooling offers numerous advantages over room-based systems, including better reliability and serviceability as well as improved energy efficiency. What's more, row-based cooling systems take up far less space, leaving more room for scaled growth as demands shift. They also offer greater flexibility making them suitable for any size data center, even modular.
Meet CyberRow
STULZ CyberRow provides intelligent air flow control for more efficient rack cooling. With this in-line air conditioning unit, innovative horizontal air conduction has been enhanced with cutting edge technology for more power, flexibility, and unparallel efficiency, directly at the rack.
Offering the highest row-based capacity at the best kW per dollar, CyberRow is highly adaptable. In line with our own mission of offering customized solutions to clients, the size, design, air conduction, and control can be precisely adapted to your specific requirements ensuring the optimal result.
Flexible for You
With CyberRow, there is no need for actual containments. Implementing horizontal air conduction, the supply air is directed to the server racks forming a cold air curtain in front of them, preventing the hot and cold air from mixing. With no turbulence, up to six server racks can be cooled at the same time. Talk about flexible efficiency!
For hot aisle containment, the CyberRow draws the contained hot air from the hot aisle, removes the heat, and supplies cooled air into the external cold aisle. The airflows are completely prevented from mixing to enhance the server rack cooling's efficiency. For cold aisle containment, the CyberRow no longer supplies air to neighboring racks, but to the entire cold aisle. To ensure an optimum cold air supply, the units are offset in position. The containment stops the hot and cold air from mixing to ensure efficient operation.
Other flexible features include:
Available in multiple data center cooling systems:

Air-cooled system

Water-cooled system

Hybrid free cooling system

Chilled water system

Split, self-contained, ducted, and ductless spot cooling systems

Two rack sizes available

Two air flow options are available

Front discharge

Front diverted

Various fan control options allowing optimized air distribution

Dual power with true auto switch-over function

State-of-the-art E2 Microprocessor with a range of BMS interface options
Because your project and IT application are explicit, our solution is flexible. This allows you to achieve an ideal balance between investment, costs, and energy goals.
A Simple Solution for Any Situation
From compliance, noise protection, and local climate to redundancy, heavy loads, and room size, unique considerations will be attached to your project. CyberRow is designed to alleviate the challenging conditions such as:
Fluctuating server rack loads

Space restrictions or modularity

No raised floor or raised floor

Top or bottom pipe and power connections

Front or rear service accessibility

Targeted hot spot reduction

Existing high-density server technology

Need for integration with existing racks from major manufacturers

Open architecture or contained hot-aisle and cold-aisle applications

Telecommunication applications

Water-side economization

Scalability requirements
As the landscape for mission critical applications is dynamic, we want to help you evolve with it. Drawing from over 50 years of precision cooling expertise, STULZ is your One Source for data center solutions that are innovative, top-quality, and always energy efficient. For more information on the CyberRow, find your individualized STULZ contact!
If you'd like to learn more about row-based cooling solutions and when to use them, join us on May 25, 2021 at 2:00 PM EDT for a product webinar on this topic.
---
Author: Kailynn Clark
Kailynn Clark graduated from the University of Pittsburgh at Johnstown with a Bachelor's Degree of Science in Mechanical Engineering. Kail started her career in refrigeration with Johnson Controls, York and Frick refrigeration as a project engineer in industrial refrigeration in 2018. She joined the team at STULZ Air Technology Systems, Inc. in 2020 as an Applications Engineer.