When designing a small-to-medium sized hyperscale/colocation data center, the goal is to achieve the largest perimeter cooling capacity while using the least amount of white space possible. While STULZ currently makes the largest CRAH in the industry (the CyberAir 1080, which offers up to a megawatt of cooling capacity), perimeter cooling of that size isn't the best option for a smaller data center. Enter the CyberAir 730!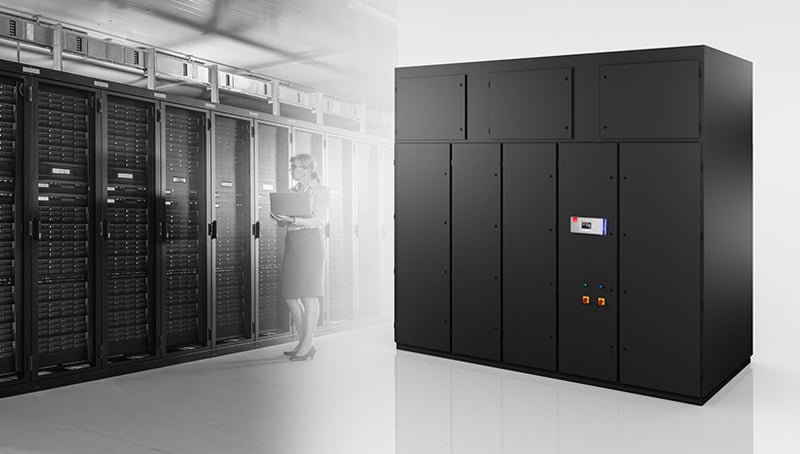 A 2-Megawatt data center could be cooled with as few as 3 CyberAir 730 units, while competitors would likely require at least 4 CW units of similar size to cool the same amount of space. Data center operators will save on capital expense by needing to purchase fewer units, thus reducing the amount spent on mechanical and electrical installation and save on operating expense as less maintenance is required since there are fewer CRAHs.
How We Engineer Efficiency
Not all CRAHs that use an EC Fan are created equal. While competitors will still use an A-coil design for their evaporator and CW coils, STULZ is the only company in the industry that utilizes a V-coil design. Competitors will need to drop their EC fans into the raised floor to improve performance, thus creating higher turbulence and added cost. Using the V-coil design, STULZ CyberAir 730 keeps the fan in the unit, maximizing performance due to reduced air-side pressure drop, optimal draw-through air pattern, and uniform air distribution. This leads to higher overall performance and lower energy consumption!
Humidification Control
A main concern for CRAHs is humidification, specifically how relatively slow-moving air over a CW coil can rapidly cool down to the dew point and unnecessarily strip moisture, requiring air to be re-humidified. STULZ CRAHs provide separate adjustable EC Fan and CW valve control loops. This allows CyberAir 730 to rapidly increase air flow in proportion to water flow increase when temperatures rise above the set point. The average coil temperature stays above the dew point, thus eliminating unwanted dehumidification and improving efficiency!
The CyberAir 730 (and all STULZ CRAHs) can be tailored for maximum efficiency. Each unit can be programmed to provide the most optimal performance for pump power or fan power, providing the most efficient cooling effect for the least amount of energy. The control loops can be programmed to have the more efficient component take the lead and provide a proportional greater response.
Other features and benefits of the CyberAir line of products include:
State-of-the-art Microprocessor with a range of BMS interface options

Multiple EC Fan configuration options

Dual Cooling Coil Circuits for added redundancy

Seismic and non-seismic rated floor stands

1" thick, hinged access panels

6-piece unit construction for ease of transport and installation

100% front access on all sizes

Made in the USA
As the landscape for mission critical applications is dynamic, we want to help you evolve with it. Drawing from over 50 years of precision cooling expertise, STULZ is your One Source for data center solutions that are innovative, top-quality, and always energy efficient. For more information on the CyberAir, find your individualized STULZ contact here.
---
Author: Drew Shannon
Drew Shannon is the Product Marketing Specialist at STULZ USA, where he manages information and life cycles across the wide array of STULZ USA products. He comes to STULZ from the newspaper industry, where he spent 5 years managing a national performance advertising program. Drew lives in Frederick, MD with his wife, 2 dogs, and cat, but is a Carolina boy at heart and constantly yearns for good barbeque. When not nose-deep in a product manual, Drew is either watching racing or on a trail with his wife and dogs.