If you find yourself taking a stroll along Carroll Creek in Frederick, Maryland this winter you will witness a festive display of boats lighting the path. For the second year in a row, STULZ USA has a boat in the fleet . Votes for our boat will benefit a local charity, "SHIP", that combats childhood homelessness.

Sailing through the Winter Sostice
Every winter, for the last four years, the Friends of the Carroll Creek Urban Park host a unique installation and fundraising opportunity for the community. Participating companies/groups pick a local charity and enter a boat they have decorated. The boats are launched on Carroll Creek in downtown Frederick, Maryland, where they float from November until the Fire in Ice event in February. This year, there are 16 boats in the water, and 2 displayed elsewhere. Seeing the boats during the day is enjoyable but at night, they really come alive, as each boat is lit up to match its unique theme.

Turning an idea into reality
Our boat design started over two years ago with a sketch that our STULZ USA President, Joerg Desler, gave to our engineering department. Our engineers design custom precision cooling and humidity control solutions on a daily basis but this was a unique request. To build a boat, from the ground up, using our internal manufacturing resources and supplies. To add to the design challenge, Mr. Desler wanted the ship to replicate a real ship: the "Rickmer Rickmers".
The Rickmer Rickmers Too
The Ricker Rickmers is a famous tourist attraction and art museum that floats in the harbor near our company headquarters in Hamburg, Germany. Designing our boat after this historic attraction gives a much deserved nod to our German heritage while highlighting our American-made manufacturing. We decided to name our ship the 'Rickmer Rickmers Too'.
After the initial concept and design was completed, a small crew of skilled craftsmen began work on the boat, turning pieces of aluminum, structural steel and copper into a beautiful replica of the 19th-century sailing ship. The ship was adorned with lights and flags to celebrate the USA, Maryland and Germany. It was then launched for the first time in the fall of 2018.
In the fall of 2019, the Rickmer Rickmers Too set sail again on the waters of Carroll Creek. This year, our team also volunteered manpower and equipment to make the boat launch smoother for the launch team.
You can see a video of the Rickmer Rickmers Too on our YouTube channel.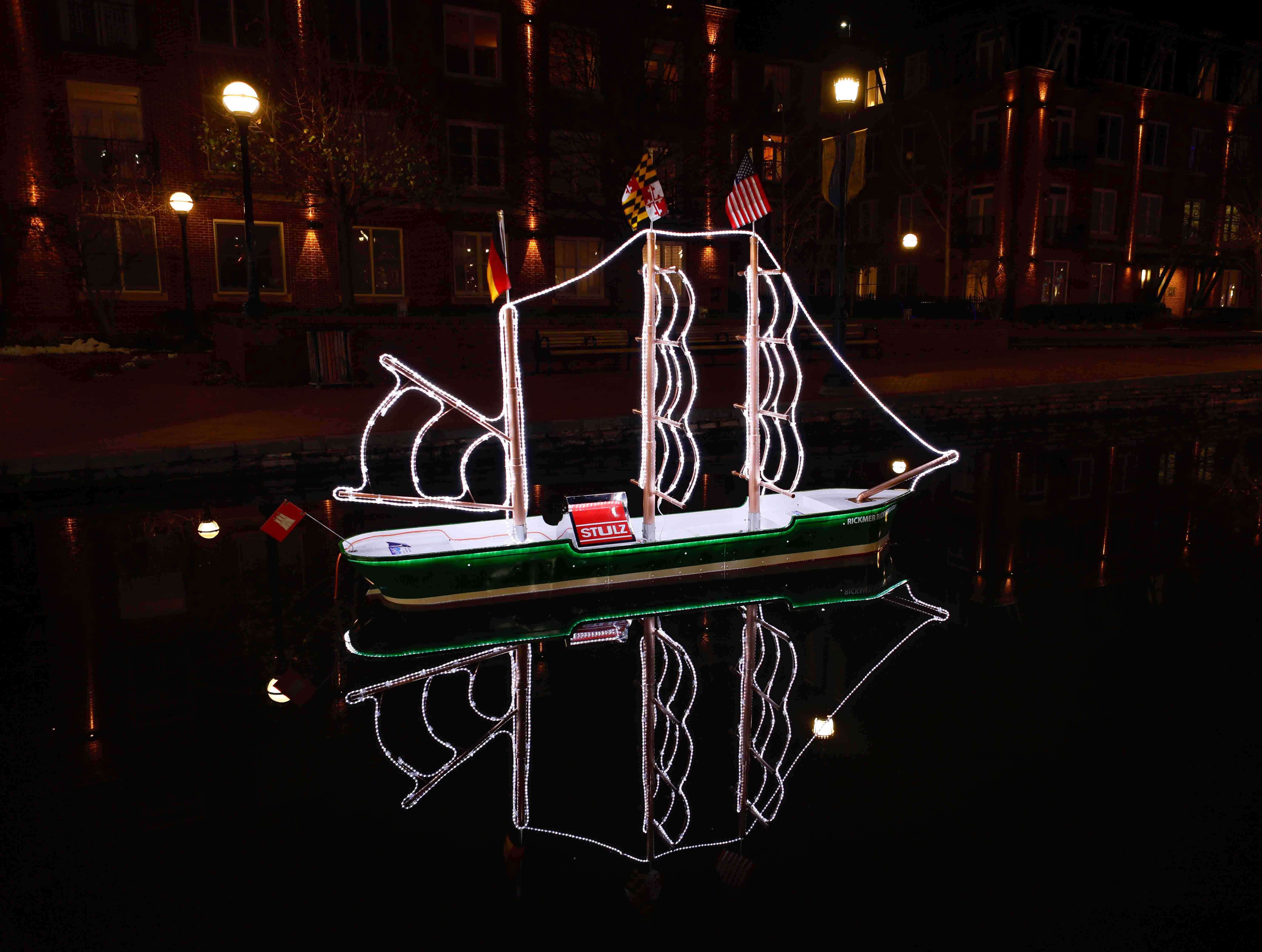 Our Charity

We have chosen to support a local charity, SHIP: "Student Homelessness Initiative Partnership". SHIP provides services and resources to homeless Frederick County Public School students. Their goal is to create a positive outcome in the lives of homeless youth by supporting efforts to provide shelter during their 'character & personality shaping years'. Find out more about SHIP at https://shipfrederick.com/.
Join us in supporting our charity with your vote!
If you're in the area, it's worth a visit to Carroll Creek to see the boats in full display. Most importantly, please help us support SHIP by voting for the STULZ boat as your favorite at www.coloronthecreek.com. Each vote cast costs $1 and the proceeds go directly to our charity.