If 2020 was useful for one thing it's this: Despite restrictions, we are not only able to adapt, but to thrive. From big changes to smaller inconveniences, we are getting good at making adjustments in both our personal and professional lives, to overcome challenges. Now, (perhaps more so than previously) wherever we see an obstacle, we also see a way forward. Looking for silver linings, this "new normal" attitude has numerous applications, so why not bring it to your workspace?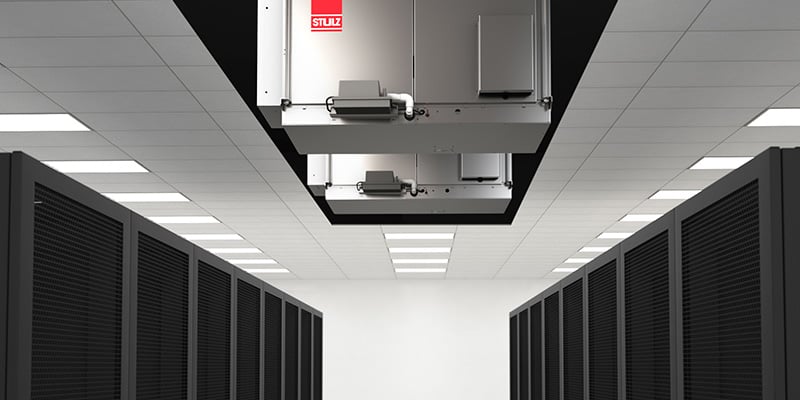 Efficiently and properly outfitting a data center is never without physical constraints. Space, size, capacity, and budget all combine to influence layout and equipment selections. Despite this, with the right cooling equipment, there is a solution for every data center constraint. Let's consider the challenge of space to learn how a ceiling-hung air handling solution can free up square footage in your mission critical space.
Data center managers and operators are tasked with ensuring proper climate control within their facilities. Major problems can arise when new equipment is added after the original HVAC systems are installed; a small space plus more equipment equals a cooling demand that the systems cannot handle. This happens more than you may imagine and can lead to crashes, network outages, unacceptable downtime, damaged components, compromised security, and a multitude of other unwanted, expensive consequences of not cooling your data center properly.
A data center manager can't cut essential equipment or produce more square footage; this seems like a showstopper. Hey now, remember our attitude about limitations? Focus on what you can do to move forward in an efficient, safe, and cost-effective manner. A ceiling-hung air handling unit is the first step.
CeilAir® CRACs and CRAHs are a centralized precision cooling solution that is specifically designed to open space in a data center, allowing more room for IT equipment. With a variety of options available and a modular design, units can be configured precisely to fit your specific needs and requirements.
This precision-built, aluminum constructed, self-contained¹ solution can help minimize installations costs and concerns. Regarding aesthetics, the unit can be hidden in a drop ceiling. Sexy, right?
Let's talk cooling. CeilAir® split, self-contained, ducted and ductless spot cooling systems give you the options you need for the space you've got. Return air configurations include both bottom (underside) and side cabinet options. Heat rejection options include air cooled DX (direct expansion), water cooled DX, glycol cooled DX and chilled water. heat rejection. Proportionally controlled electrode steam humidification is available. Dehumidification options can be configured with electric (SCR fired or on/off), hot gas, hot water, or steam reheat options.
In case you need 2020 to really hammer the "can't stop, won't stop" lesson home, let's recap and expound on the benefits and stand-out features.
Benefits:
Designed for the precise requirements of data centers

Low installation costs (fewer units, installation outside the building)

Lower operation costs

Free cooling options: Direct Free Cooling

No maintenance work on air conditioning units inside the data center (safety, cleanliness, time saving)

Lower risk in the event of a leak, as the units are installed outdoors

Capacity can be selected from a large range

Designed for continuous operation all year round

Data center optimized STULZ E² controls with user adjustable set-point envelope

Made in the USA

Frees up space for additional IT equipment in the data center
Standout features include:
Modular design

Direct free cooling available

Coil bypass for minimal air pressure loss under a low heat load

Flexible duct connections for return air, supply air and outside air

Lightweight aluminum housing with airtight aluminum panels

Corrosion protection

Protect against temperature loss (reflective)

Aluminum housing for corrosion protection and a low weight

Maximum energy efficiency for higher air velocities and supply air temperatures (in accordance with ASHRAE 90.1)

STULZ E² controls – data center specific with user adjustable set-points and alarm thresholds
With over 50 years of specialized experience, the STULZ teams – spread across over 140 countries – are committed to paving a path forward. Valuing collaboration and communication, our engineers work with clients to take on challenges, big and small, presented by data center constraints to provide custom, precise, American-made solutions that keep you up and running. It's okay 2020, we keep calm and cool on.
Want to learn more about ceiling mounted air handlers? View our latest webinar on-demand.
¹ - Air-cooled self-contained configurations are available.
---
Author: Casey Jon McKay
Casey Jon McKay is the Product Line Manager at STULZ USA, the world's leading provider of energy efficient temperature and humidity management technology.
Prior to championing various industry segments such as hyperscale computing, colocations, precision agriculture and humidification, Casey served as the STULZ USA Director of Engineering.
He has overseen product design, development, testing and validation of the entire STULZ USA product portfolio and has over 20 years' experience focused on both commercial refrigeration and the precision climate control industry.