ASHRAE Standard 90.4-2019: A Sensible Standard for Data Centers
ASHRAE – The American Society of Heating, Refrigeration and Air-Conditioning Engineers – is a global society of professionals committed to advancing the arts and sciences of heating, ventilation, air conditioning, refrigeration, and their associated fields. These folks have a very important job: In addition to promoting a more sustainable world, they are tasked with defining standards for an industry that is constantly changing with the demands of technology. Ultimately, the decisions made by the group drive the requirements adopted and enforced by the Department of Energy, or DOE.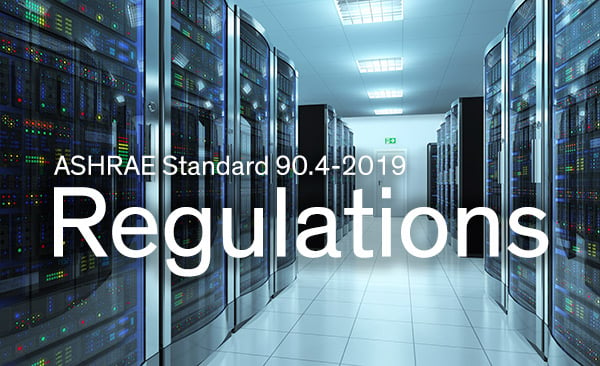 As needs change, ASHRAE must confer to make amendments to standards that will impact the sciences and technologies. One such update that positively effects our commitment to innovation here at STULZ happened in 2019. Members met to give more careful consideration to the evolving needs of data centers and mission critical facilities, ASHRAE Standard 90.4-2019 was the result of those discussions, and we are excited about it.
You can download the Regulations White Paper below.
A Starting Point: ASHRAE Standard 90.1
ASHRAE 90.1 has been a benchmark for commercial building energy codes in the United States and a key basis for codes and standards around the world for over 35 years. This standard provides the minimum requirements for energy-efficient design of most buildings, with the exception of low-rise residential buildings. Up until recently, comfort cooling has been regulated by the DOE to meet minimum efficiency ratings based on Energy Efficiency Ratio (EER) and Seasonal Energy Efficiency Ratio (SEER) metrics. With completely different design requirements, mission critical facilities utilizing precision cooling with high sensible heat ratios rated poorly using this metric. Unlike comfort cooling units the precision air conditioners required high coil face velocities and thinner coils to provide the desired high sensible heat ratio (SHR) that the IT equipment required.
In 2010, ASHRAE Standard 90.1 codified a measurement for data center cooling equipment, that metric was the Sensible Coefficient of Performance (SCOP). However, at that time, not everyone defining this new standard was familiar with the demands of computer room air conditioners. Due to this oversight, only the minimum SCOP for up flow and down flow computer room air conditioners (CRACs)were considered, leaving out the possibility for horizontal flow CRACs. It was not until 2016 that ASHRAE included measurements for horizontal flow. Prior to this, precision cooling manufacturers and data centers had not fully implemented the 90.1 standards as they did not accurately consider all the necessary inputs. Despite the inclusion of horizontal flow, data center equipment was still missing the efficiency mark as far as the DOE was concerned and the market was asked to respond.
In 2019, experts came together to update Standard 90.1, including measurements for up flow, down flow, horizontal flow, and an additional category for ceiling hung. Some essential mechanical updates included:
New requirements to allow the option of using ASHRAE Standard 90.4 instead of ASHRAE Standard 90.1 in computer rooms that have an IT equipment load larger than 10 kW
Added pump definitions, requirements, and efficiency tables to the standard for the first time
New equipment efficiency requirement tables and changes to existing tables
Replaced fan efficiency grade (FEG) efficiency metric with fan energy index (FEI)
These various modifications and clarifications allowed for the improved internal consistency and standardized implementation of Standard 90.1. But how could this standard promote growth? The industry needs benchmarks that enable operators and designers to use the latest and most effective equipment and techniques to achieve energy efficiency in data centers. One of the biggest concerns of the data center community was that the prescriptive path requirements of ASHRAE 90.1 may prevent new and innovative designs. Looking for a performance based standard, ASHRAE looked for a new standard that was more flexible and promoted innovative, energy efficient designs. Thus the 90.4 committee came into existence.
ASHRAE Standard 90.4
In December of 2019, ASHRAE released a revised version of its energy standard for data centers. Standard 90.4-2019, Energy Standard for Data Centers, establishes the minimum energy-efficiency requirements for data center design and operation, with special consideration to their unique load requirements compared to other buildings.
While Standard 90.4-2019 did not reinvent the wheel, it did include a reduction of the maximum mechanical load component (MLC) and electrical loss component (ELC) for compliance in order to evolve with the IT industry's constantly changing technologies. Additional updates that alter approach and complexity include:
Defining a data center as a room or building with a conditioned floor area greater than 20 W/ft2 and IT equipment loads greater than 10 kW
Focusing on efficiencies of systems that are dependent on climate zone instead of independent of climate zone; Standard 90.4 requires in-depth knowledge of system design and energy modeling
Mechanical efficiency requirements are based entirely on yearly energy calculations and no longer include a power calculation option. Included table values are also aligned with the newest ASHRAE Climate Zones.
Significant improvements are made to uninterruptible power supply (UPS) technology.
Updated UPS segment tables reflect available hardware, and average outputs are also included.
The standard requires compliance with Standard 90.1 for building envelope, service water heating, lighting, and other equipment.
One main question that came out of this was, what happened to the power usage effectiveness metric (PUE), that everyone expected to be included? In place of PUE, ASHRAE 90.4 brought forth two new metrics, electrical loss component (ELC) and mechanical load component (MLC). A conscientious decision was made to address mechanical system and electrical distribution system efficiencies separately. The ultimate goal of separating the two was to provide more design flexibility. If either the mechanical or electrical systems didn't meet the minimum efficiency level required by the standard, an alternative compliance path could be used where trade-offs would be allowed. This provided a balance where the shortfall of one system could be made up with the efficiency of the other.
While Standard 90.4 is under continuous maintenance to ensure the standards keeps pace with the ever-changing nature of IT, it does permit growth.
Looking Forward
Though some businesses may feel the impact of the new data center regulations and efficiency measurements as Standard 90.4 becomes the law of the land, STULZ's continuous commitment to innovation allows for a smooth alignment. All STULZ Units are certified to meet the SCOP requirements. We are ready for what is next, because we are helping to shape it. Recently, I returned from the ASHRAE conference held in Orlando. As a voting member of T.C. 9.9, SPC 127, and SSPC 90.4 I see great opportunity in the most recent changes, The new measurement standards just make sense. They are better suited to data centers as a whole and will spur innovation.
Some of the innovation I am excited about may come as a response to getting credit for capturing and reusing heat energy, as well as crediting the use of onsite renewable energy sources. There is a huge opportunity here. As we continue to pave the way, critically thinking and collaborating, we are finding ways to harness the power of renewable energy for mission critical spaces. State and Federal adoption of the new Standard 90.4 will position STULZ and our clients to optimize data centers, increase energy efficiency, and leave room to drive innovation to the next level.
To learn more, download the white paper below.
---
Author: Dave Meadows
Dave Meadows is the Director of Technology at STULZ USA. He has over 20 years of experience in mission critical technologies and participates in numerous committees and panels throughout the year. Dave has a BS in Mechanical Engineering from the University of Maryland, Baltimore County. He is also a graduate of the United States Navy Nuclear Power School. Dave is an voting member on these ASHRAE committees: 1. ASHRAE Technical Committee 9.9: "Mission Critical Facilities, Data Centers, Technology Spaces and Electronic Equipment". 2. ASHRAE SSPC 90.4: "Energy Standard for Data Centers". 3. ASHRAE SPC 127: "Method of Testing for Rating Computer and Data Processing Room Unitary Air Conditioners".