The need to compute, transmit, store, and analyze large quantities of data in real-time has skyrocketed. This progressive shift is driving a metamorphosis in edge technology, creating incredible opportunities for a multitude of industries.
Edge computing extends computing from the cloud center to the edge of the network. It enables data to be processed closer to where it is needed, moving data services and, in effect, data centers closer to the end-user. Edge computing has the advantage of low latency to achieve a shorter response time, as well as the potential to address the concerns of energy consumption, bandwidth burden, and security. Latency, growing data volume, and reduction in data processing at large data centers are key components in driving demand for edge-based data centers.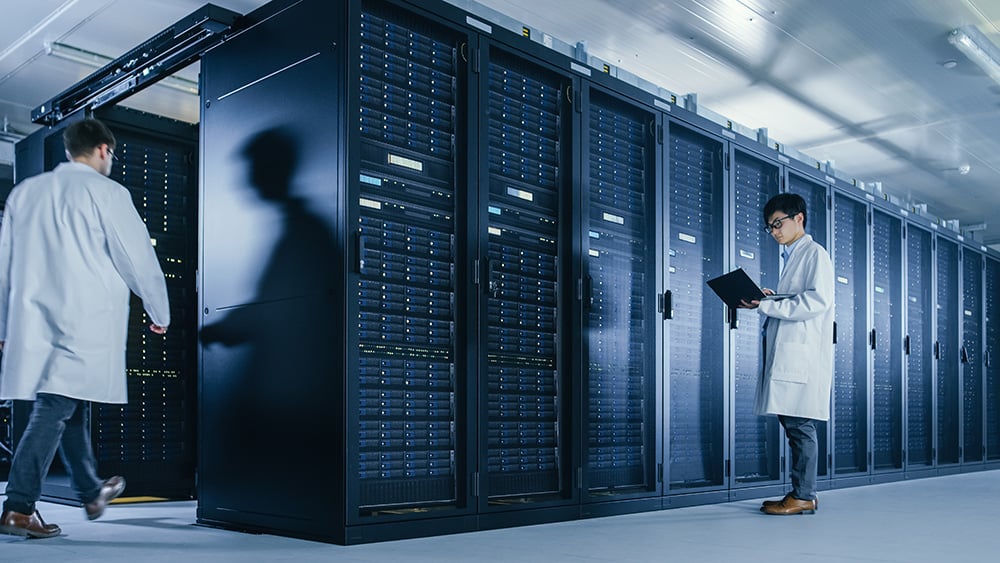 The Future is at the Edge
As the number of Internet of Things (IoT) devices grow and consumers continue to prioritize speed and reliability, edge computing is changing how companies do business. As demand surges and tech capabilities increase, the edge data center market is forecast to grow at a CAGR of 36.3% from $768 million in 2017 to $3.6 billion in 2022. Edge data centers with capacity of less than 1MW are expected to make up 54.6% of the total market by 2022, whereas relatively large edge data centers (greater than 1MW) will account for the remaining 45.4% share.
This rapid growth is being driven by a combination of factors such as increase in the number of connected and IoT devices, growth in next generation applications such as the number of connected and autonomous cars, more content streaming, and a rise in the number of users playing massive multiplayer games and games that require streaming. Most of these require close to zero-latency data transfer, paving the way for the edge data centers.
Considerations for Deploying Edge Data Centers
With the influx of competition at the edge, it's advisable to come with a strategy. Ultimately, the solution should match the needs of the organization and/or the IT application. The top three considerations are proximity, security, and connectivity. Additional factors include data requirements and volume, bandwidth, size or footprint constraints, and physical location of IoT devices.
Considering these factors, it is important to fit the proper edge IoT architecture to the specific application. A proper edge IoT architecture can help organizations rapidly and efficiently deploy projects, reduce points of security vulnerability, and is scalable, leaving room for future growth. Trending forms of edge computing include Multi-access Edge Computing (MAEC), Cloudlets, and For Computing.
The Edge Market Ecosystem
The edge market ecosystem includes a mix of entrenched market participants in all three segments of Cloud, Colocation, and Enterprise Class, as well as specialist edge market participants focusing on the deployment of edge data centers. With more competitors, consolidation via mergers and acquisitions (M&A) and regional expansion are highly likely. As enterprises evaluate the need to push data center footprints to the edge, asses implementation plans, and analyze CAPEX/OPEX expense, these investments and M&As will become promising strategies for growth and success in the future.
Edge data centers will complement existing data centers, acting as an additional processing layer located close to the source. And location matters in the market. Tier II and Tier III cities are currently the most attractive locations for offering edge computing services, as data center providers seek graphic expansion closer to edge of the network. Also, over time, the amount of data originating from Tier II and Tier III cities is likely to increase and will require faster processing. Opportunities will continue to arise to collaborate with main market participants who are looking to expand into Tier II and Tier III cities.
By 2025, 85% of infrastructure strategies will integrate on-premises, colocation, cloud and edge delivery options, compared with 20% in 2020. Conventional colocation providers are likely to expand to Tier II or Tier III cities to push their network to the edge, through their strategic acquisitions or planned development. Enterprise class users are likely to opt for edge-based colocation services or may push their own networking infrastructure to the edge through planned development. Cloud market participants will look to partner with colocation providers as well as establish their own edge-based cloud network.
5G and Edge Computing Trends
5G will drive high-speed edge computing and will be a key enabler for the next-gen applications. 5G can support multiple applications with growing latency needs and drive edge technologies, especially to provide for smaller markets. 5G will enable data transfer rates up to 1Gb/sec, and both the operator and the users will reap the benefits that 5G has to offer. By 2050, 68% of the global population will live in urban cities. Clearly, it is becoming increasingly important to digitally connect various city infrastructures. This will contribute to sustainability and improved quality of life for residents, especially for those in underserved Tier II markets.
Other edge trends to watch are:
Given their small form factor and build-in IT capacity requirements, Micro and Micro-Modular containers are the best suited for edge computing

The connected devices market is set to reach $75 Billion with CAGR of 18.4% by 2025, which will be a major driver for the edge-based processing

Applications such as analytics are likely to be processed at the edge moving forward
Cool Solutions for Edge Data Centers
High density cooling solutions such as rack-mounted cooling and advanced cooling solutions are the most preferred edge cooling solutions. These advanced solutions include Evaporative/Adiabatic Cooling, Direct Liquid Cooling/Immersion Cooling and Economizer Segment/Free Cooling.
Both immersive and non-immersive cooling solutions are also attractive options for edge data centers.
Sum it Up
The rapid use of next-gen applications such as connected cars, autonomous cars, content streaming, and the number of connected and IoT-based devices will drive the growth of edge data centers.
Market participants are expanding their data center footprint to service Tier II and Tier III cities and develop their network at the edge. This is expected to create opportunities in these cities for other participants in the value chain.

Be it cloud, colocation or enterprise class, edge data centers are expected to be deployed by all three classes respectively, as they are likely to expand their data center footprint propelled by next-gen applications.

Optimal cooling solutions based on application include high density cooling solutions advanced cooling solutions.
Decades of experience combined with a constant drive for innovation is what keeps the STULZ vision focused on the future. We work together to develop and continuously optimize mission critical solutions for data center and IT professionals. When you're ready to go to the edge, we'll help get you there.
---
Author: Lane Gregory
Lane Gregory is the Marketing Manager at STULZ USA, where she leverages her 15 years of experience in both traditional and digital marketing, sales, and media. Lane is also an adjunct faculty member at The George B. Delaplaine Jr. School of Business at Hood College in Frederick, Maryland, where she teaches Advertising Management, Marketing Research and Integrated Marketing Concepts in the MBA program. When not strategizing on how to fill the sales funnel, Lane can be found gardening, cooking, and enjoying the great outdoors with her family.